SHORT ADVANCED PROGRAMME
Delivering on the Socio-Economic Transition within the EU – Research Challenge
---
21 March 2023
The University of Győr – Széchenyi Istvan University (SZE), is hosting the third RUN-EU Student Week, from 24 to 28 April 2023, in Hungary.
The event will enable all RUN-EU students and researchers to participate in three Short Advanced Programme Challenges on Research.
The Short Advanced Programme (SAP) Research Challenge 'Delivering on the Socio-Economic Transition within the EU' will invite students to develop joint innovative approaches and research project proposals, focused on addressing the EU priority areas of socio-economic challenges.
Research students will be provided with master classes in the EU priority areas, innovation practice and design thinking by leading researchers and educators of the RUN-EU community.
The Student Week will allow all RUN-EU students and researchers to participate in another two Short Advanced Programme Challenges on Research:
Date
From 24-28 April 2023
Mode of delivery
Face-to-face at SZE (Győr, Hungary)
Language of instruction
English
ECTS credits
1 ECTS credit
Academic recognition
To be defined by each higher education institution.
Eligible participants
Open to all RUN-EU degree students and researchers.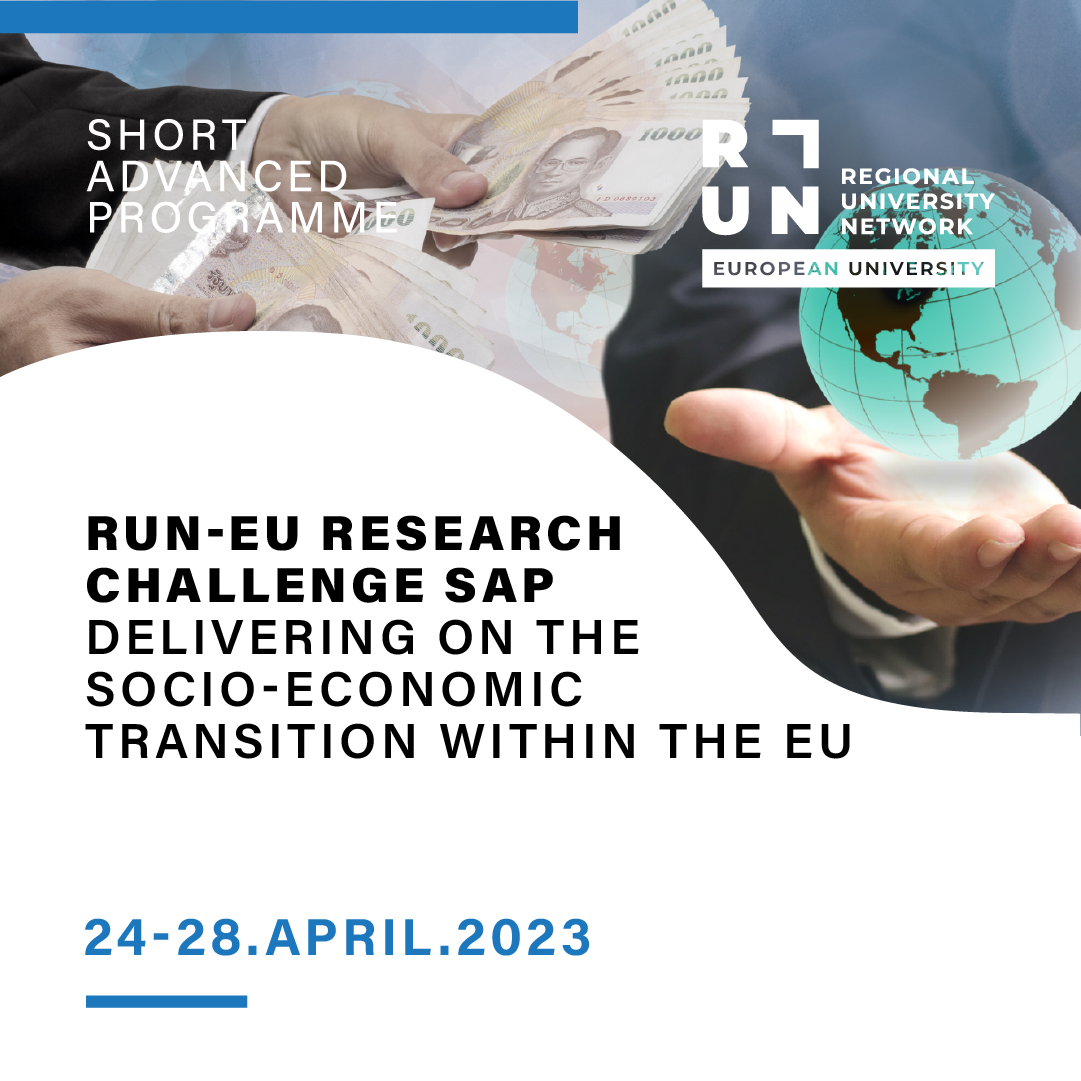 Proposed learning outcomes
At the end of this Short Advanced Programme, you will:
Think creatively (generate new ideas, evaluate and select the most appropriate ones);
Improve research skills;
Improve transversal and soft skills through teamwork and cooperative project methodology;
Elaborate on cooperative research topics by utilising new approaches;
Articulate integrated research definition based on the sustainability challenges of European society;
Improve sustainable and innovative thinking in cooperation with others to achieve a common goal;
Better understanding of value driven tourism model;
Better understanding of how interculturalism can be utilised to create a more inclusive and cohesive society in Europe.
How to apply
Fill in the application form
Deadline for applications
29 March 2023
Selection criteria
Background, motivation, wide representation of subject areas/fields and balanced participation of RUN-EU member institutions. Priority will be given to students who are developing research at a master's or PhD level. Degree students who prove to be involved in research projects can apply.
A maximum of 35 students will be selected for this programme. The selection team will also take steps towards ensuring a diverse and representative group of students.