SHORT ADVANCED PROGRAMME
Impactful Content Creation
Making Media That Matters
---
23 January 2023
Any impactful content has three pillars: timelessness, relevance, and engagement. Therefore, each piece of content must have an endearing message that people can connect with for years to come. This has emerged as a key pillar in today's dynamic media environment.
The purpose of the RUN-EU Short Advanced Programme (SAP) Impactful Content Creation – Making Media That Matter is to gain knowledge regarding the creation of value for all stakeholders through impactful (meaningful) content.
Design Based Education centres around design because design is about co-creating value. Media has a great impact on our world, our society, communities, and individuals.
With the Creative Business media platform, Matters, the core of the SAP, we explore how to co-create value for our direct local environment with media content, products & services.
This SAP is jointly coordinated by the Technological University of the Shannon (TUS) and the NHL Stenden University of Applied Sciences and includes two face-to-face weeks in Leeuwarden in The Netherlands.
Date
From 13 March to 6 April 2023
Face-to-face weeks
From 20 to 24 March and 27 to 31 March at NHL Stenden, Leeuwarden (The Netherlands)
Mode of delivery
Blended
Language of instruction
English
Academic recognition
The SAP is either part of an optional module or an add-on, which will be added to the diploma supplement.
Eligible participants
RUN-EU students from all cycles of studies, with particular emphasis on students from study programs related to the creative industries (Creative Business – such as (Digital) Marketing, Communication, Multimedia Design, and Meaningful Media.)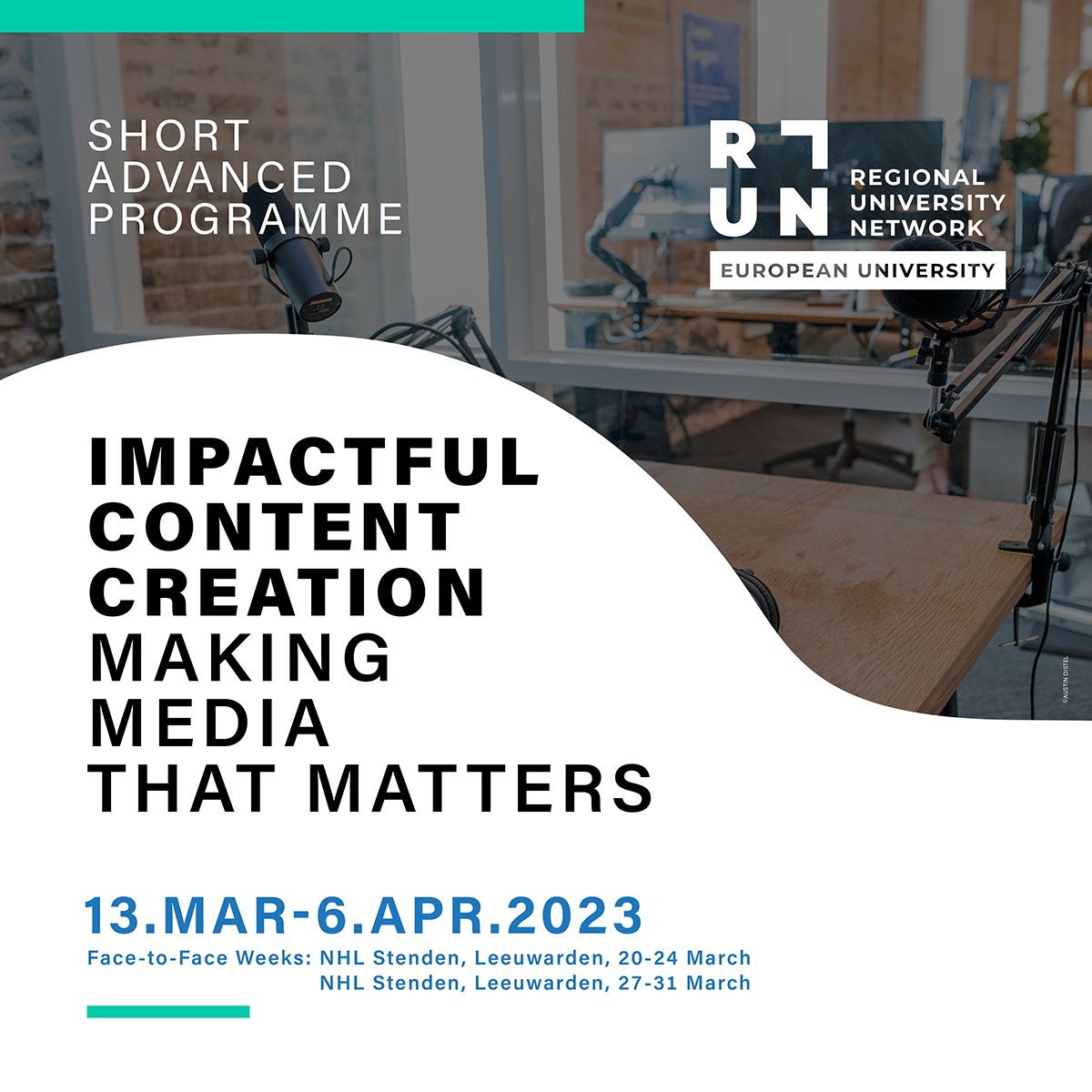 Learning outcomes
At the end of this Short Advanced Programme, students will be able to:
Understand media content
Develop media concepts
Produce media products and services
Reflect on your learning and development.
How to apply
Fill in the application form
Deadline for applications
3 February 2023
Selection criteria
Motivation Letter (max. one A4 page)