SHORT ADVANCED PROGRAMME
Diversity, Equity and Inclusion in an Educational Environment
---
10 November 2023
The Short Advanced Programme (SAP) 'Diversity, Equity and Inclusion' is jointly organised by the NHL Stenden University of Applied Sciences (NHL Stenden), and by the Technological University of the Shannon (TUS).

This SAP focuses on what extent are diversity, equity and inclusion taken into account when students take their first steps in a new learning environment
Achieving a diverse and inclusive learning and working environment
is a pressing and complex challenge for both students and staff in higher education. It requires innovative forms of education.
Research has shown that this starts at the beginning, with the induction of students.
By raising awareness, openly sharing their own experiences and learning from each other in a multicultural environment, this SAP aims to give students and staff the opportunity to unleash their creativity by developing a concept/prototype that can be used by universities worldwide.
Date
From 11 to 15 December 2023
Location
NHL Stenden University of Applied Sciences, The Netherlands
Mode of delivery
In-person
Language of instruction
English
ECTS credits
1
Academic recognition
To be defined by each home higher education institution.
Eligible participants
All RUN-EU degree students.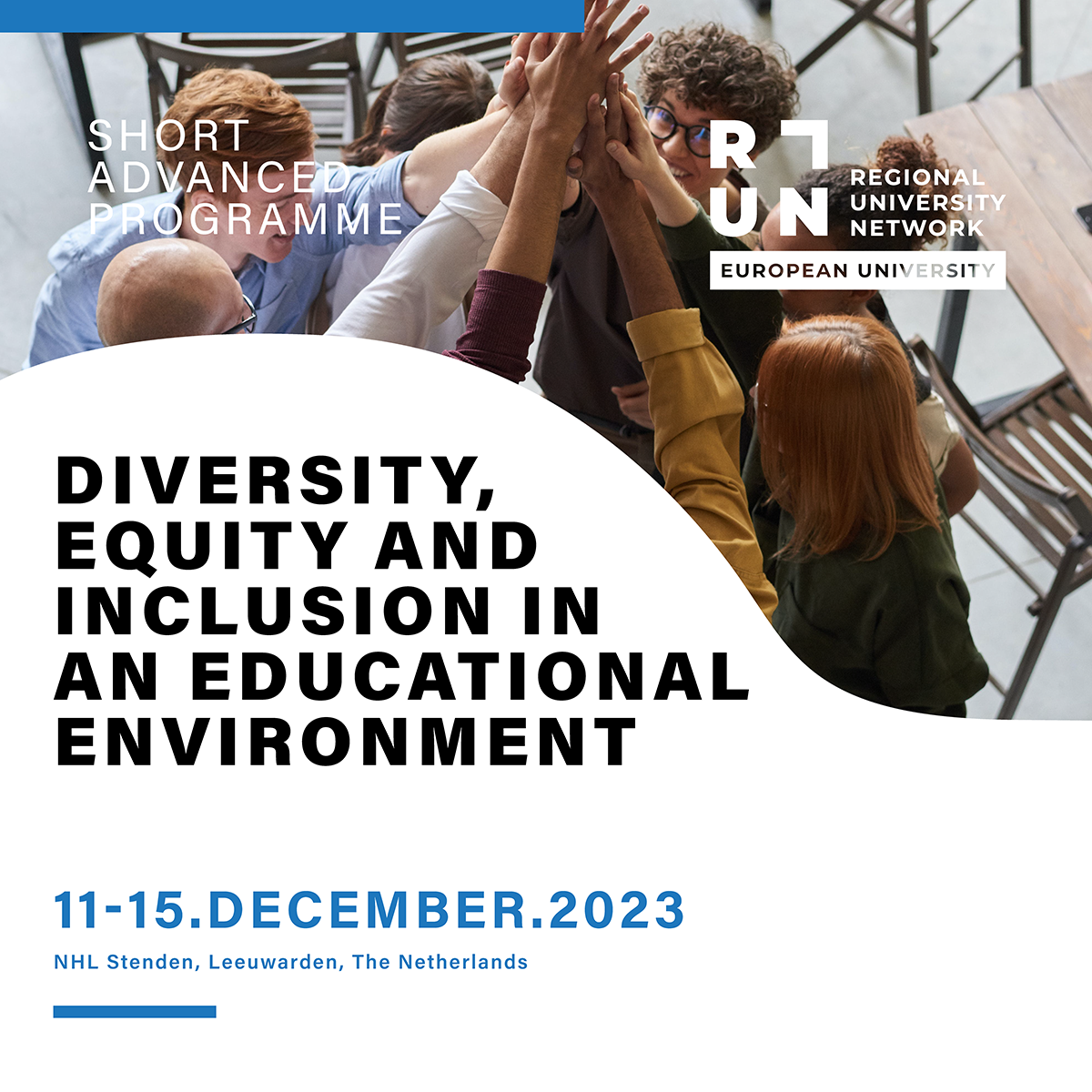 Learning outcomes
At the end of this Short Advanced Programme, students will be able to:
Be aware of and understand the various ways in which DEI can affect an organisation and individuals.
Develop, test and report on an evidence-based intervention to help an organisation become more diverse, inclusive and/or equitable.
Put DEI into a practical context and be able to reflect on their newly acquired awareness through team interaction in a multicultural environment.
How to apply
Fill in the application form
Deadline for applications
15 November 2023
Selection criteria
Maximum number of students to be selected: 35