SHORT ADVANCED PROGRAMME
Aspects of Interregional Development – Digital Challenge
---
25 September 2023
In the 2023 Student Week, hosted by the Polytechnic University of Leiria (IPLeiria), there will be four Short Advanced Programme Challenges on 'Aspects of Interregional Development'.
The Digital Challenge is jointly organised by the IPLeiria, and the Vorarlberg University of Applied Sciences (FHV).
This programme addresses digital challenges and opportunities that delve into key aspects of interregional development and gain valuable insights into how digital goods and services are both a catalyst and a disruptor.
With this learning experience, you will have the opportunity to be part of an interdisciplinary international group that will propose novel, potentially disruptive, sustainable solutions where digital aligns with values of equity, diversity, and inclusion.
Within the framework of the UN SDGs, it's a chance to explore opportunities to shape a better, more harmonious digital interregional environment for generations to come.
The Student Week will allow all RUN-EU students to participate in another three SAP Challenges on 'Aspects of Interregional Development':
Date
From 13 to 17 November 2023
Face-to-face week
Polytechnic University of Leiria, Portugal
Mode of delivery
In-person
Language of instruction
English
ECTS credits
1
Academic recognition
To be defined by each Home Institution.
In general terms, most students will have this RUN-EU SAP certified in the Diploma Supplement, as a minimal condition.
Eligible participants
Open to all RUN EU students.
Prior to the members of Student Councils in each RUN-EU member university.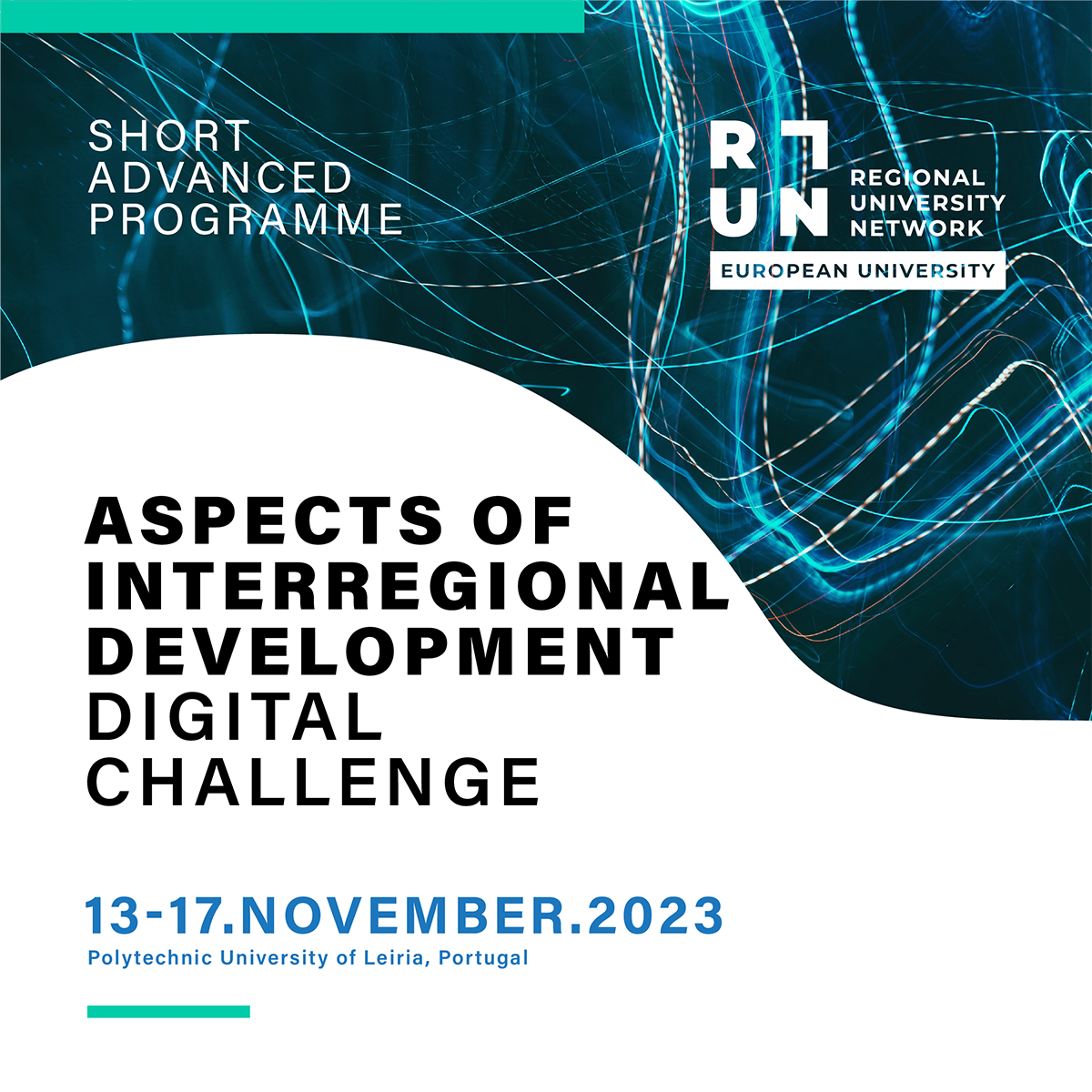 Learning outcomes
At the end of this Short Advanced Programme, students will be able to:
Analyse themselves and their actions within an inclusive digital, ethical, and responsive future society.
Validate the necessity to foster inclusion and equity in digital goods and services, within the framework of the UN SDGs.
Analyse digital challenges within an interregional ecosystem.
Utilize data for decision-making processes.
Acquire transdisciplinary skills to promote conditions and strategies for interregional digital networks and innovative practices.
Design a society that fosters ethical and responsible digital development practices that prioritise equity, inclusion, and privacy, towards a better and more harmonised digital environment.
Clearly communicate information, ideas, problems, and solutions to both specialist and non-specialist audiences.
How to apply
Fill in the application form
NEW Deadline for applications
3 October 2023
Selection criteria
Students will be selected based on the fulfilment of requirements and information provided in the submitted application.
The total number of students to be selected is 30.