SHORT ADVANCED PROGRAMME
Stress and Stress Management in Educational Contexts – 2nd edition
---
9 August 2023
Jointly organised by the Technological University of the Shannon (TUS) and the Polytechnic of Leiria, the second edition of the RUN-EU Short Advanced Programme (SAP) 'Stress and stress management in educational contexts', offers an active learning journey and approach, from the understanding of stress, to how to cope with it, particularly in educational contexts.
The goal is to provide participants with practical resources to better manage stress and increase participant skills to manage emotional and social well-being, as well as an understanding of when and how to seek support.
Date
From 6 November to 1 December 2023
Face-to-face week
From 27 November to 1 December at the Technological University of the Shannon (Limerick, Ireland)
Mode of delivery
Blended
Language of instruction
English
ECTS credits
2
Academic recognition
Certificate of completion.
Supplement on the diploma.
Eligible participants
RUN-EU staff and students from postgraduate and level 6 study cycles.
Organisational networks of the RUN-EU members.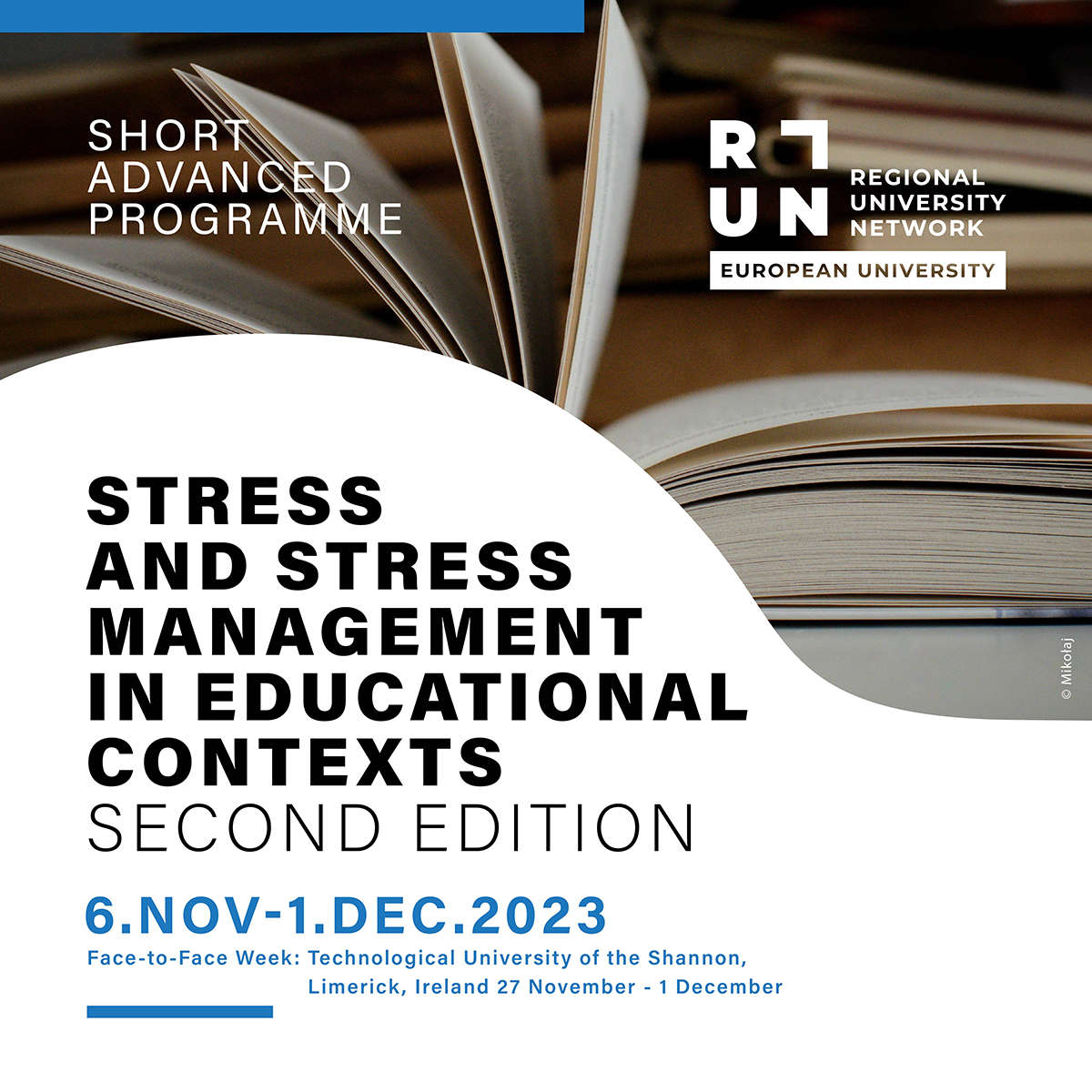 Learning outcomes
At the end of this Short Advanced Programme, students will be able to:
Apply critical thinking, creative problem-solving concepts, and strategies to prevent stress, promote self-care and cope with stress in educational contexts.
Participate in multidisciplinary, multicultural and co-creation environments to explore issues relating to stress and well-being.
Recognise and communicate information, ideas, problems, and solutions related to stress and stress management.
Demonstrate awareness of different kinds of stress (both functional and otherwise) and how these can be self-managed.
How to apply
Fill in the application form
Deadline for applications
29 September 2023
Selection criteria
Maximum number of students to be selected: 35