SHORT ADVANCED PROGRAMME
Supportive Care in Loss, Grief,
and Bereavement:
an Interdisciplinary
Approach
---
21 February 2023
The RUN-EU Short Advanced Programme (SAP) Supportive Care in Loss, Grief, and Bereavement: an InterdisciplinaryApproach, is jointly organised by the Polytechnic of Leiria, and the Technological University of the Shannon (TUS).
This SAP consolidates learning, drawing on previous knowledge and skills to develop confidence and competence in managing holistic support of people during the process of loss, death, and dying.
The students will be able to be more confident and competent in working with people who are experiencing a loss or have been bereaved. The support of those experiencing loss, including the ones suffering from traumatic losses (suicide, homicide, overdose…) and bereavement is a fundamental principle to dealing with suffering and existential issues. Students will be encouraged to routinely reflect on the work undertaken throughout the module and apply this to practice to enhance compassion and competence when working with bereaved people experiencing a loss.

Within a range of care environments, including hospitals, nursing homes and community settings, professionals from all working areas are involved in response to suffering across the life span. With the development of centred-care initiatives, the need to provide the right level of care at the right time and in the right place has been emphasised as of paramount importance to all concerned.

Guest speakers from different disciplinary areas will be integrated into this SAP, focusing on an inter-professional learning curriculum, and all the activities will be supervised by the lecturer responsible for the course.

At the end of this SAP, students from a variety of professional backgrounds should have enhanced grief and bereavement literacy which will allow them to be in a better position to support those who are affected by multiple forms of loss. These competencies will allow students to develop compassionate communities in collaboration with local citizens, aligned with the 2020-30 agenda for sustainable development.
Date
From 13 March to 26 April 2023
Face-to-face week
From 10 to 14 April at the Polytechnic of Leiria (Leiria, Portugal)
Mode of delivery
Blended
Language of instruction
English
ECTS credits
5
Academic recognition
Certificate of completion.
Supplement on the diploma.
Eligible participants
RUN-EU degree and postgraduate students from nursing, psychology, medicine, social service, rehabilitation, and other allied health areas.
Students from other Healthcare professions (e.g. physiotherapists, speech therapists, occupational therapists), psychology students, social care students.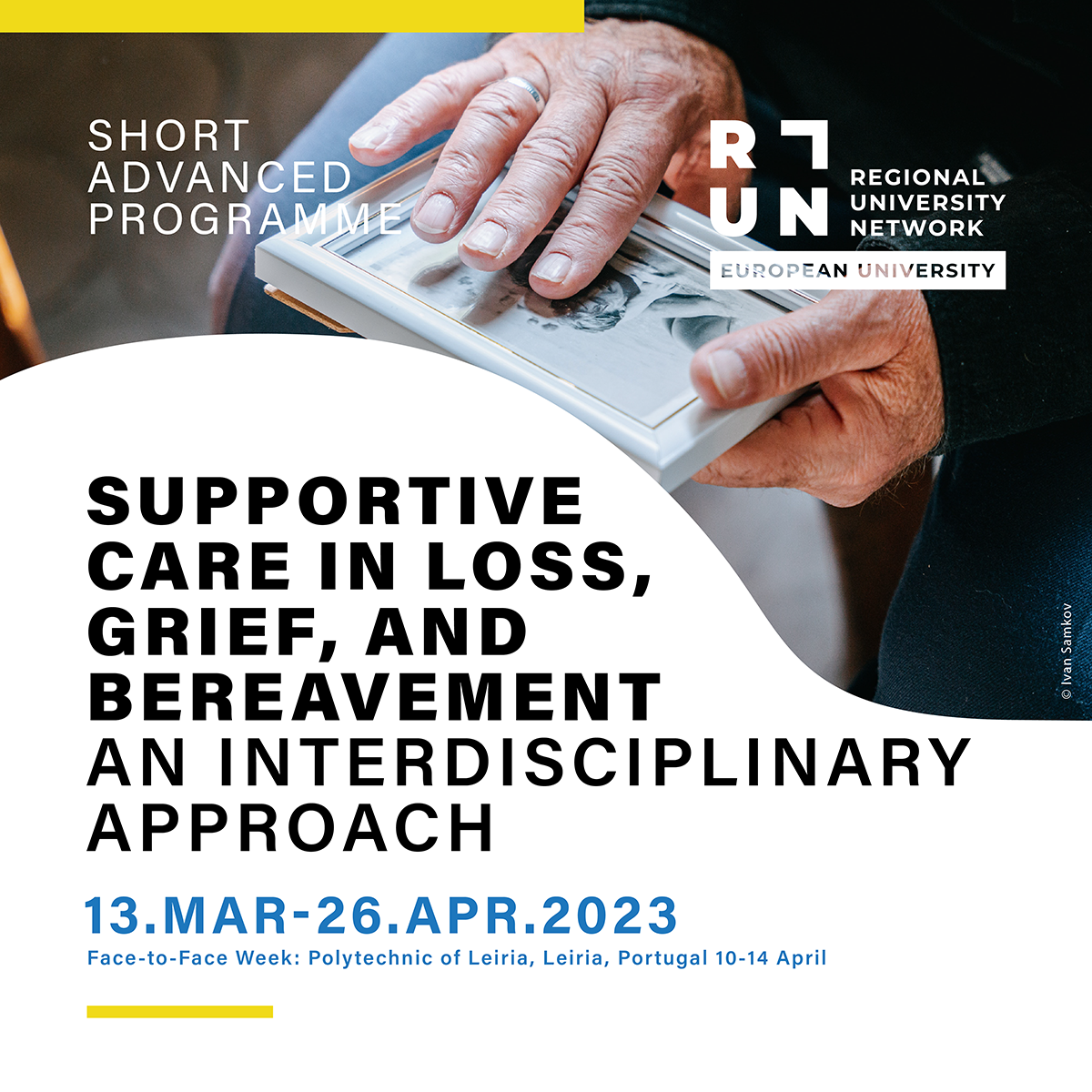 Learning outcomes
At the end of this Short Advanced Programme, students will be able to:
Acknowledge the ethical, social, systemic, and cultural issues that can affect attitudes concerning loss, death, and grief in a post-pandemic world.
Demonstrate a critical understanding of external social, cultural, and ecological influences which have a direct effect on bereavement care, and the strategies employed to facilitate the delivery of quality care services.
Critically evaluate a variety of physical, psychological, spiritual, cultural, and social factors which impact people's experience of and responses to loss, grief, and bereavement processes.
Develop specific competencies and skills, including interpersonal, reflective, digital, and soft skills required in loss, grief, and bereavement processes.
How to apply
Fill in the application form
Deadline for applications
6 March 2023
Selection criteria
Background, motivation, subject areas/fields and balanced participation of RUN-EU member institutions.
A maximum of 25 students will be selected for this programme.
The selection team will also take steps toward ensuring a diverse and heterogeneous group of students.
Computer literate and moderately skilled in using MS Office, the internet, e-mails, social media and Skype (or related communication systems).