SHORT ADVANCED PROGRAMME
Sustainable & Inclusive Marketing Strategies
---
27 December 2022
In the future, it is hoped that all organisations will adopt socially responsible marketing practices, and our students will be leaders in this area.
The goal of this RUN-EU Short Advanced Programme (SAP), jointly coordinated by the Technological University of the Shannon (TUS), and the NHL Stenden University of Applied Sciences (NHL Stenden), is to provide interdisciplinary students from across the RUN-EU network (future graduate global citizens), with the awareness of an ethical and sustainable approach to designing and implementing marketing strategies within the organisations they will work with, contributing to the triple bottom line of planet, people and profits.
It will not only identify current tools and models of a marketing strategy but will also apply these to a real-life non-profit organisation/Public Sector Institution. It will also be delivered using the principles of Universal Design Learning (UDL).
This SAP is part of a stackable set of 3 SAPs under Sustainable Digital Marketing. The other 2 SAPs include Impactful Content Creation and Ethics in a Digital Age.
Each one can be followed as a standalone module as well.
Date
From 30 January to 23 February 2023
Face-to-face week
From 13 to 17 February at the Technological University of the Shannon (Athlone, Ireland)
Mode of delivery
Blended
Language of instruction
English
Academic recognition
The SAP is either part of an optional module or an add-on, which will be added to the diploma/degree supplement.
Eligible participants
RUN-EU students from all cycles of studies, with particular emphasis on students from Digital Marketing, Business, Design and Communications.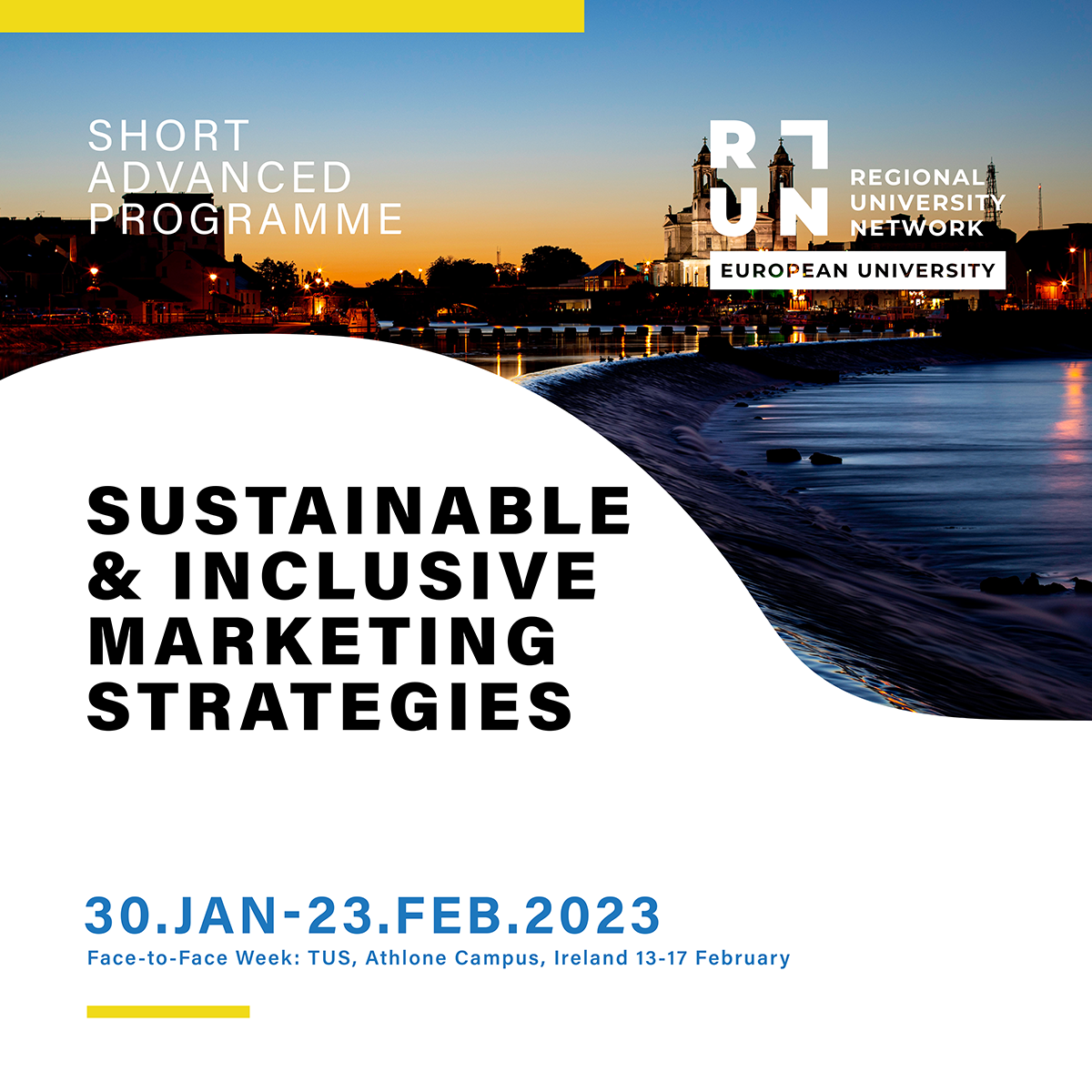 Learning outcomes
At the end of this Short Advanced Programme, students will be able to:
Explain the fundamentals of marketing and digital marketing strategy theory.
Explore traditional and digital tools that aid businesses locally and globally.
Demonstrate an awareness of the impact on society of marketing and digital marketing strategies.
Develop a sustainable digital marketing strategy for a live organisation that is inclusive of all
How to apply
Fill in the application form
Deadline for applications
9 January 2023
Selection criteria
Diversity and a wide representation of students from different RUN-EU partners and (study) backgrounds will be ensured.