NEWS
Researcher Career Development Training Programme 2022
---
20 May 2022
RUN-EU PLUS is organising the Researcher Career Development Training Programme 2022 to support RUN-EU researchers in identifying their research skills and personal career paths and encourage inter-sectoral and international mobility.
Postgraduate students, early-stage career researchers, research supervisors, staff supporting researchers and research stakeholders within RUN-EU are all welcome to participate in the workshops according to their interests.
Each workshop will focus on different aspects of researcher skills, career paths and working environments.
Besides workshop presentations, you will be invited to discuss relevant topics shared by all researchers with researchers from other universities of RUN-EU.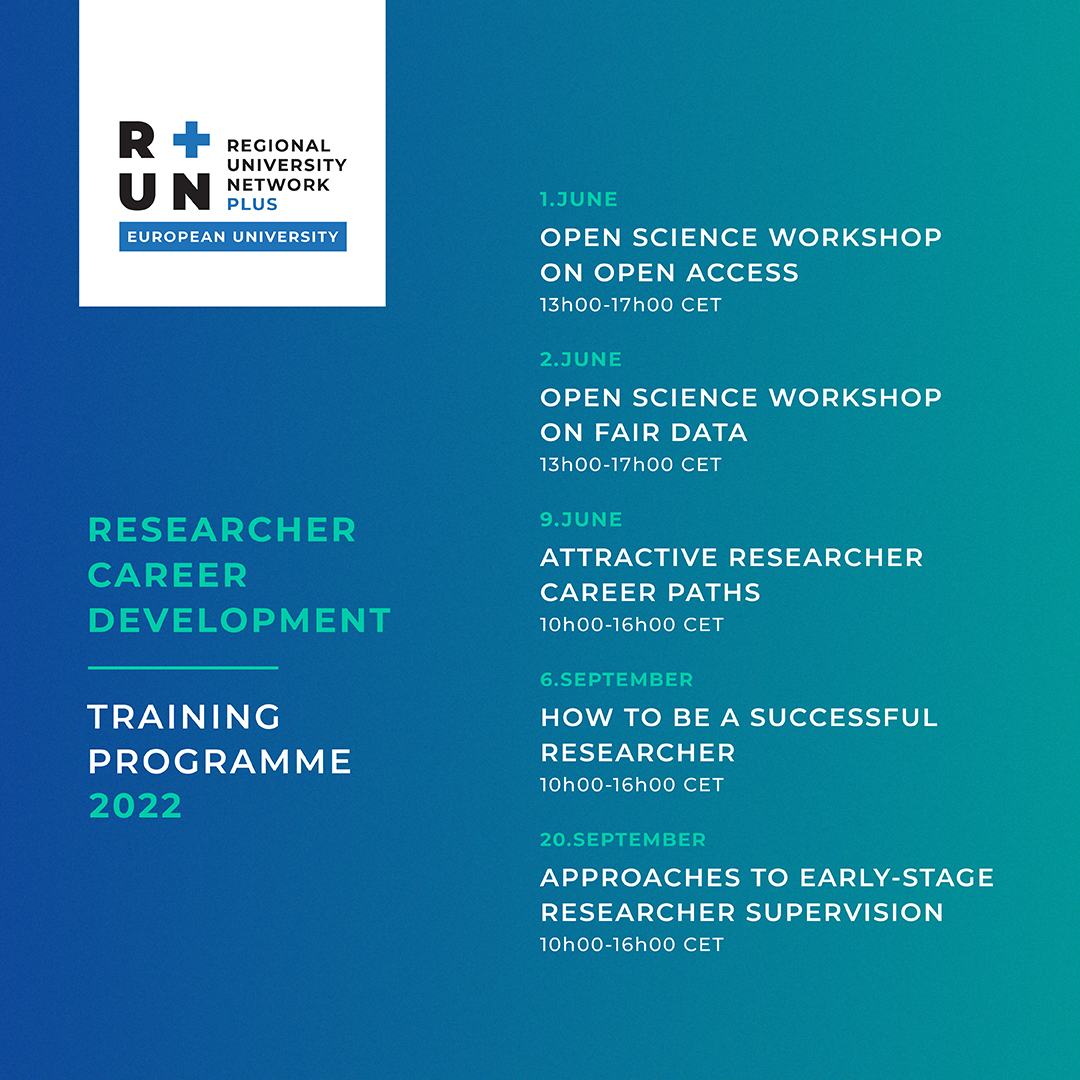 Researcher Career Development Training Programme 2022
1 June 2022
Open Science Workshop on Open Access
13h00-17h00 CET
It will focus on:
Advantages of open access
Basic principles of open access
How to publish open access
Open access and copyright
---
2 June 2022
Open Science Workshop on FAIR Data
13h00-17h00 CET
It will focus on:
Basic principles of research integrity
Writing a data management plan
Data protection in research
Findable, Accessible, Interoperable, Reusable Data
---
9 June 2022
Attractive Researcher Career Paths
10h00-16h00 CET
It will focus on:
Results of the RUN-EU PLUS self-audit and gap analysis of researcher career paths
Identification of researcher skills and competencies
Educational needs of researchers
---
6 September 2022
How to be a Successful Researcher
10h00-16h00 CET
It will focus on:
the publishing process and how to cope with its identified challenges
impact of collaboration in writing a research funding proposal
---
20 September 2022
Approaches to Early-Stage Researcher Supervision
10h00-16h00 CET
It will focus on:
the roles and tasks of supervisors and postgraduate students in the supervision process
best practices in supervision