EVENT
Online Workshop on Approaches to Early-Stage Researcher Supervision
---
5 July 2022
RUN-EU PLUS will organise an Online Workshop on Approaches to Early-Stage Researcher Supervision on 20 September 2022, specially developed for new research supervisors and researchers wishing to take up the role of a supervisor in the future.
PhD students are also welcome to participate in this workshop to represent the supervised postgraduate students and gain insights into the supervision process.
One essential goal of RUN-EU is that the researchers will attain advanced competencies in research and transferable skills and the ability to plan their career and learning paths towards it.
Supervisors are key actors in enabling the continuous learning and skills development processes of all researchers. Postgraduate students in turn have their own important impact on the collaboration process with a supervisor.
Workshop on Approaches to Early-Stage Researcher Supervision
20 September 2022 • 10h00-16h00 CET • MS Teams
It will focus on:
the roles and tasks of supervisors and postgraduate students in the supervision process
best practices in supervision in various supervision environments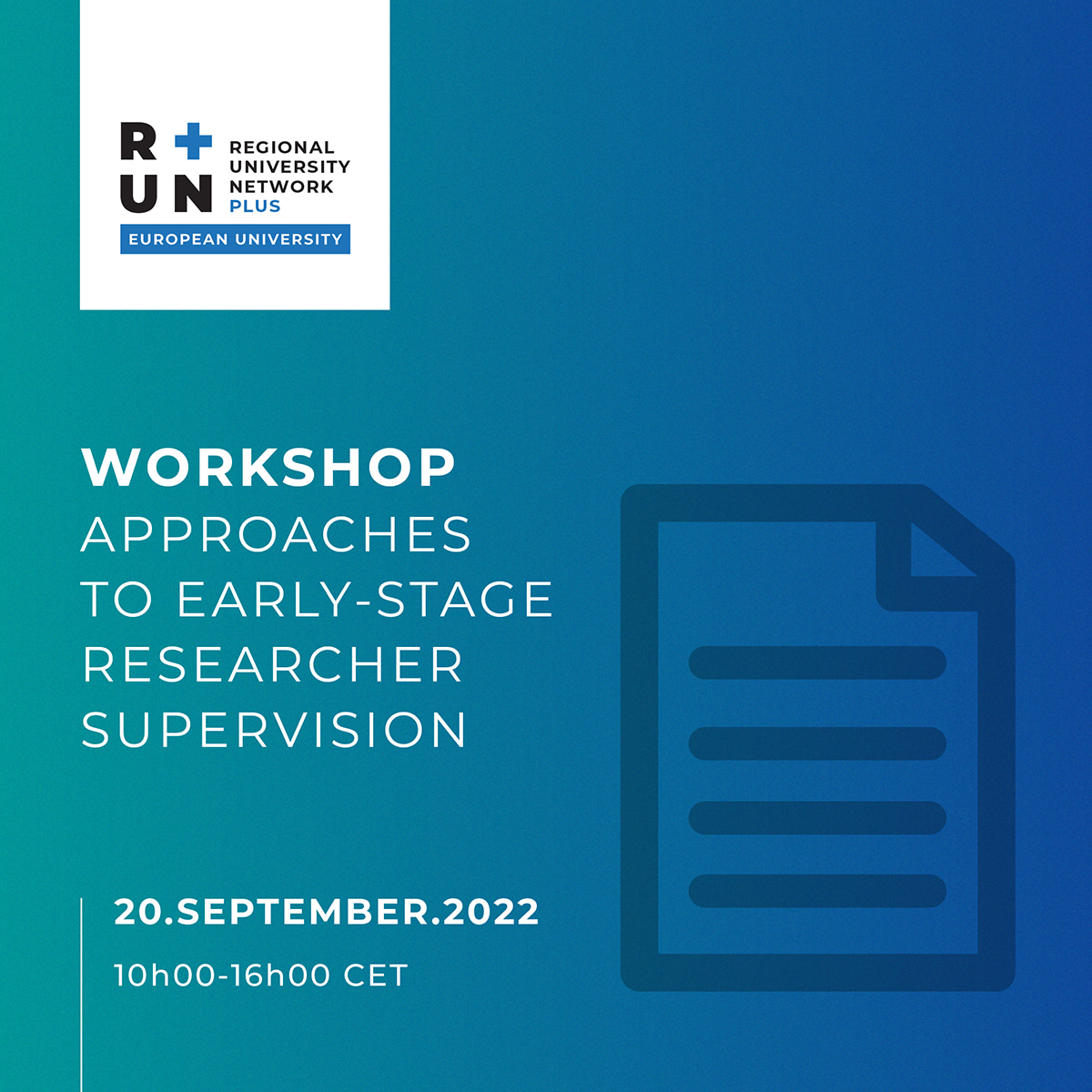 10h00-10h10
Welcome and introductions
Dr Mervi Friman (HAMK)
10h10-11h00
What is supervision?
Dr Telle Hailikari (HAMK)
11h00-11h05
Guidelines for breakout sessions
Ms Hanna Lindroos (HAMK)
11h05-11h45
Breakout Session 1: Discussion of different styles to be a supervisor
11h45-12h30
Lunch break
12h30-13h00
Summaries of the breakout room discussions (chaired session by Dr Telle Hailikari)
13h00-13h30
Requirements to be a supervisor
Dr Zoltán Baracskai, Academic Director, Doctoral Program in Business Administration (SZE), Dr Liam Brown, Vice President for Research, Development and Innovation (TUS)
13h30-13h45
Short break
13h45-13h55
Towards a good supervisory process
Dr Telle Hailikari (HAMK)
13h55-14h10
Some supervision experiences
Dr Sari Miettinen (HAMK), Dr Jason Palframan (TUS)
14h10-15h10
Breakout Session 2: Discussion on the roles in individual and group supervision and good practices
15h10-15h45
Summaries of identified good practices in supervision (chaired session by Dr Sara Novais, Polytechnic of Leiria and Dr Telle Hailikari)
15h45-16h00
Feedback, next steps in the RUN-EU PLUS training programme and closing words
Dr Virve Kallioniemi-Chambers (HAMK)