SHORT ADVANCED PROGRAMME
How to Navigate Through Unfamiliar Contexts
---
6 April 2022
'How to Navigate Through Unfamiliar Contexts' is a RUN-EU Short Advanced Programme (SAP) jointly coordinated by the Häme University of Applied Sciences (HAMK), the Polytechnic of Leiria (IPL), the NHL Stenden University of Applied Sciences (NHL Stenden), the Vorarlberg University of Applied Sciences (FHV) and the Technological University of the Shannon (TUS).
To face the challenges demanded by a changing and uncertain world, you'll need many more skills than those you get from your degree. These kinds of skills are called generic competencies or future skills. They include, for example, collaborating with others, problem-solving, flexibility, and taking responsibility. Plus, balancing contradictory demands require empathy, compassion and respect towards yourself and others.
Understanding how to learn in a self-directed manner and reflecting on your development are two essential skills that will play an increasingly important role in the future of work. Developing future skills will raise your employability prospects, and most importantly, they will enhance your – and your peers' – well-being.
This SAP aims to make students aware of the importance of future skills and encourage them to set goals for developing them.
Date
From 5 to 31 May 2022
Online sessions
5, 9, 10, 12 , 24, 25 and 31 May
Face-to-Face week
From 16 to 20 May at the Häme University of Applied Sciences (Finland)
Mode of delivery
Blended
Language of instruction
English
ECTS credits
3 ECTS credits
Academic recognition
To be defined by each higher education institution.
Generally, most students will have this RUN-EU SAP certified in their diploma supplement, as a minimal condition
Eligible participants
All RUN-EU degree students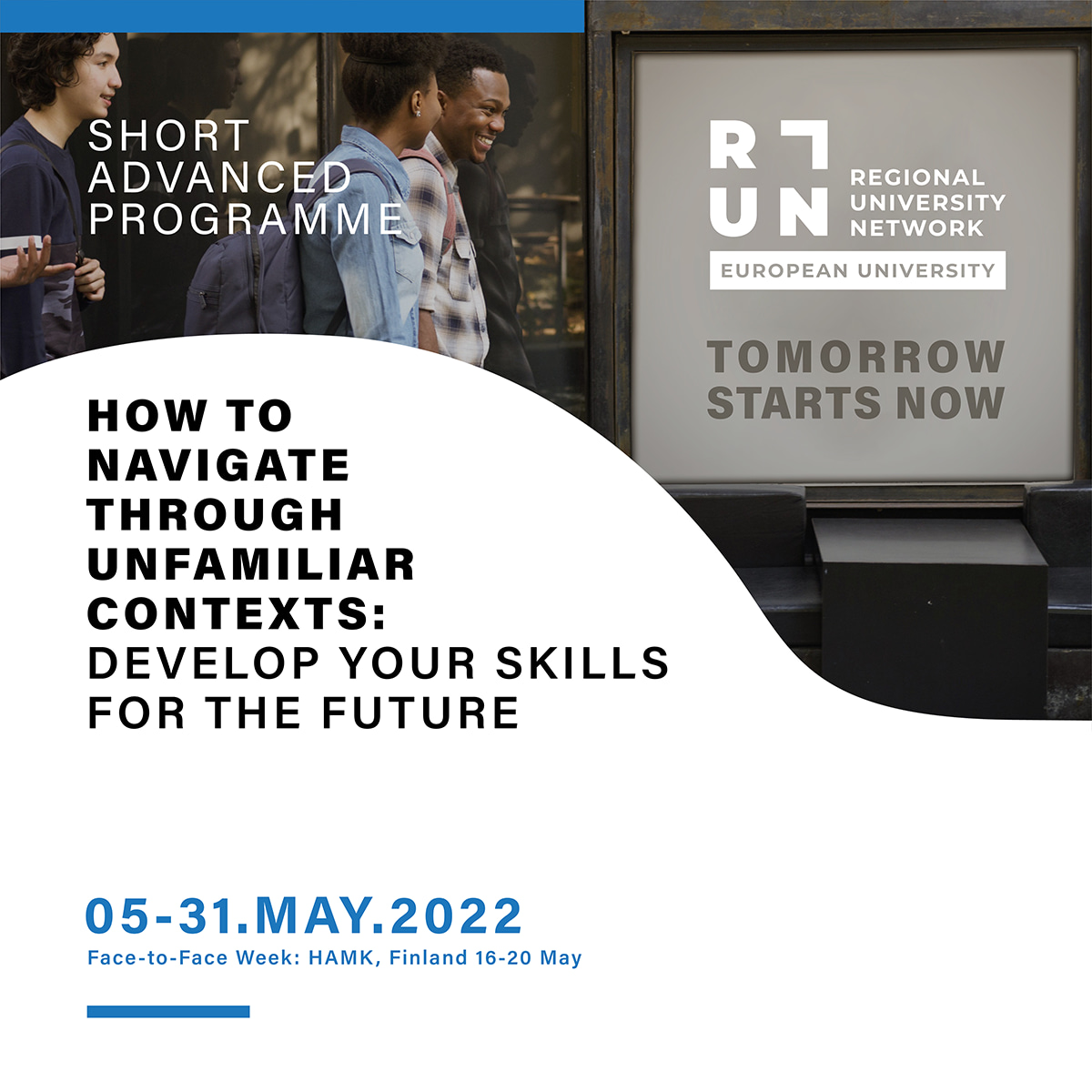 Proposed learning outcomes
At the end of this Short Advanced Programme, you will:
be familiar with various definitions of future skills
utilise this information to develop proactive strategies that can be used in navigating unfamiliar contexts
be able to think about the requirements for successful working in multidisciplinary and multicultural environments
unravel your own conceptions of learning practices, and recognise learning as an important future skill
recognise how future and study skills are related to your well-being and propose solutions for enhancing wellbeing
evaluate the development of your future and study skills on the basis of given feedback and self-assessment.
How to apply
Fill in the application form
NEW DEADLINE FOR APPLICATIONS
26 April 2022
Selection criteria
Order of submission, motivation, wide representation of subject fields of study and balanced participation of RUN-EU member institutions (a maximum of 5 students per RUN-EU member)
Total number of students to be selected
35