SHORT ADVANCED PROGRAMME
Preventing the Social Exclusion of Young People
---
10 March 2022
'Preventing the Social Exclusion of Young People' is a RUN-EU Short Advanced Programme (SAP) jointly coordinated by the Häme University of Applied Sciences (HAMK), the Vorarlberg University of Applied Sciences (FHV), and NHL Stenden University of Applied Sciences (NHL Stenden).
Young people are among the most vulnerable in society. Particularly during a serious economic downturn, 1 out of 5 children lives in families that are at risk of poverty, and more than one-third of young adults (18 to 24) in the European Union are currently unemployed and not in education or training.
Social exclusion doesn't just affect people who are materially deprived. Approximately 1 out of every 3 people in Europe face social exclusion. Creating an inclusive community was a primary goal in the process of European integration from its start and the latest economic crisis placed new weight on this objective.
Date
From 15 March to 25 April 2022
Mode of delivery
Online
Language of instruction
English
ECTS credits
3 ECTS credits
Academic recognition
To be defined by each home institution.
In general, most students will have the SAP certified in their diploma supplement, as a minimal condition.
Eligible participants
All RUN-EU degree students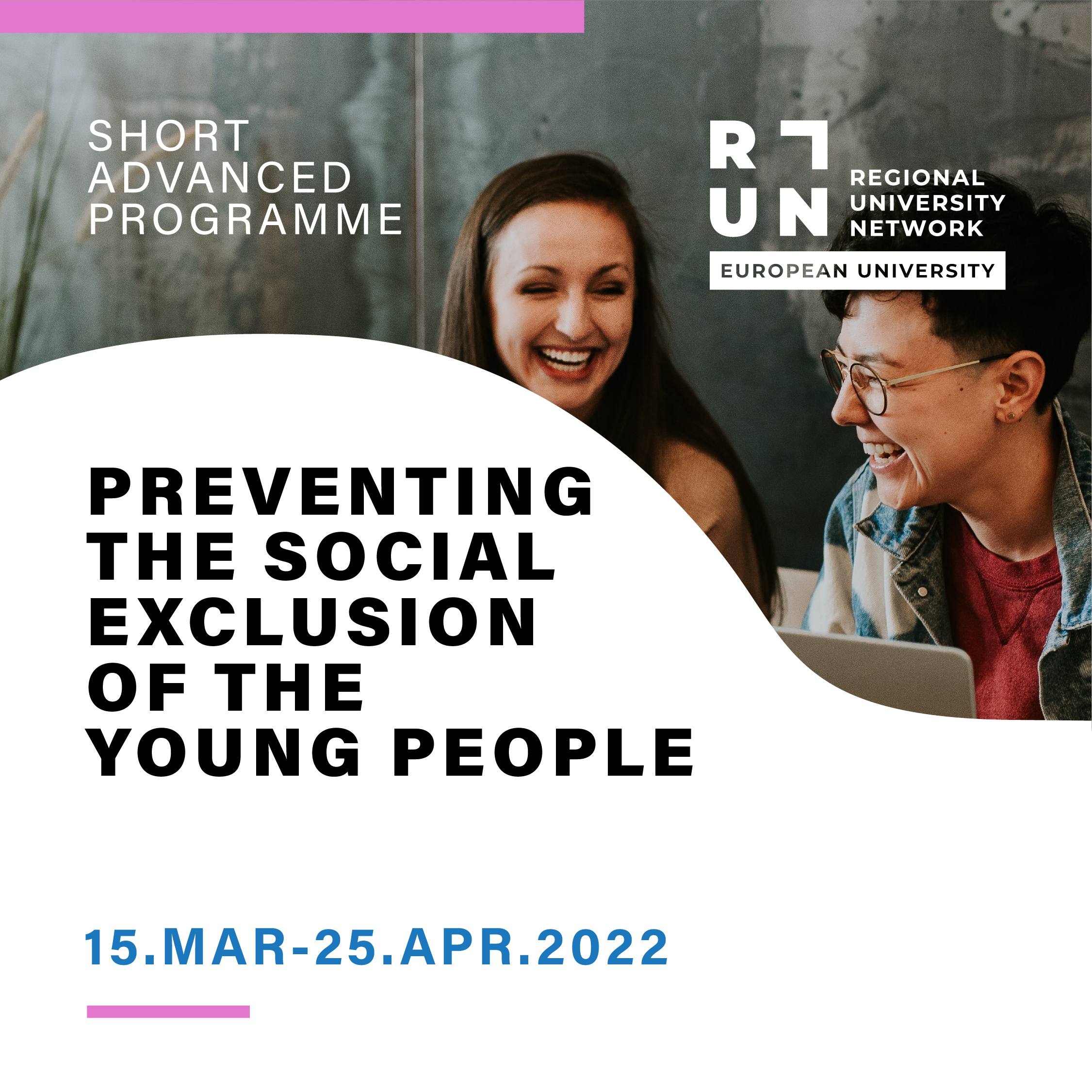 Proposed learning outcomes
At the end of this Short Advanced Programme, you will be able to:
identify and demonstrate knowledge of major concepts, theoretical perspectives, and historical trends
apply critical thinking to provide practical solutions to problem-based scenarios or social issues commonly encountered in the field
understand and apply inclusive and digital guidance methods to enhance the well-being of young people and help prevent social exclusion
practice transdisciplinary approaches to social inclusive methods
work in multidisciplinary and multicultural teams
communicate that demand innovation and various skills
How to apply
Fill in the application form
Deadline for applications
15 March 2022
Selection criteria
Application and motivational letter