SHORT ADVANCED PROGRAMME
RUN-EU Research Challenge Entrepreneurial Thinking in a Global Context
---
3 October 2023
Jointly organised by the Technological University of the Shannon (TUS) and the Polytechnic of Cávado and Ave (IPCA), the SAP Research Challenge 'Entrepreneurial Thinking in a Global Context' is an introduction on the principles of entrepreneurship and entrepreneurial thinking.
Students will explore the range of skills and the knowledge required to become successful entrepreneurs or intrapreneurs in a global business environment.
This SAP focuses on the development of simple business ideas, understanding fundamental business types, and examples of practical business planning.
Activities are designed to introduce concepts such as idea generation, feasibility analysis, competition analysis, branding, and promotion, alongside an overview of financial forecasting and tracking. In addition, topics related to cross-cultural communication and multicultural teamwork are highlighted as crucial skills for a global entrepreneurial mindset.
This programme will provide an experiential learning opportunity for RUN-EU students to visit an overseas partner institution and to gain a global perspective on entrepreneurship in different cultures.
Students will engage in stand-alone activities and in-class activities with TUS students and Saint Lawrence College students, Canada, who will be visiting TUS during the same period on a similar study programme.
Date
From 23 to 27 October 2023
Location
Technological University of the Shannon, Limerick, Ireland
Mode of delivery
In-person
Language of instruction
English
ECTS credits
1
Academic recognition
To be defined by each home higher education institution.
Eligible participants
All RUN-EU degree students.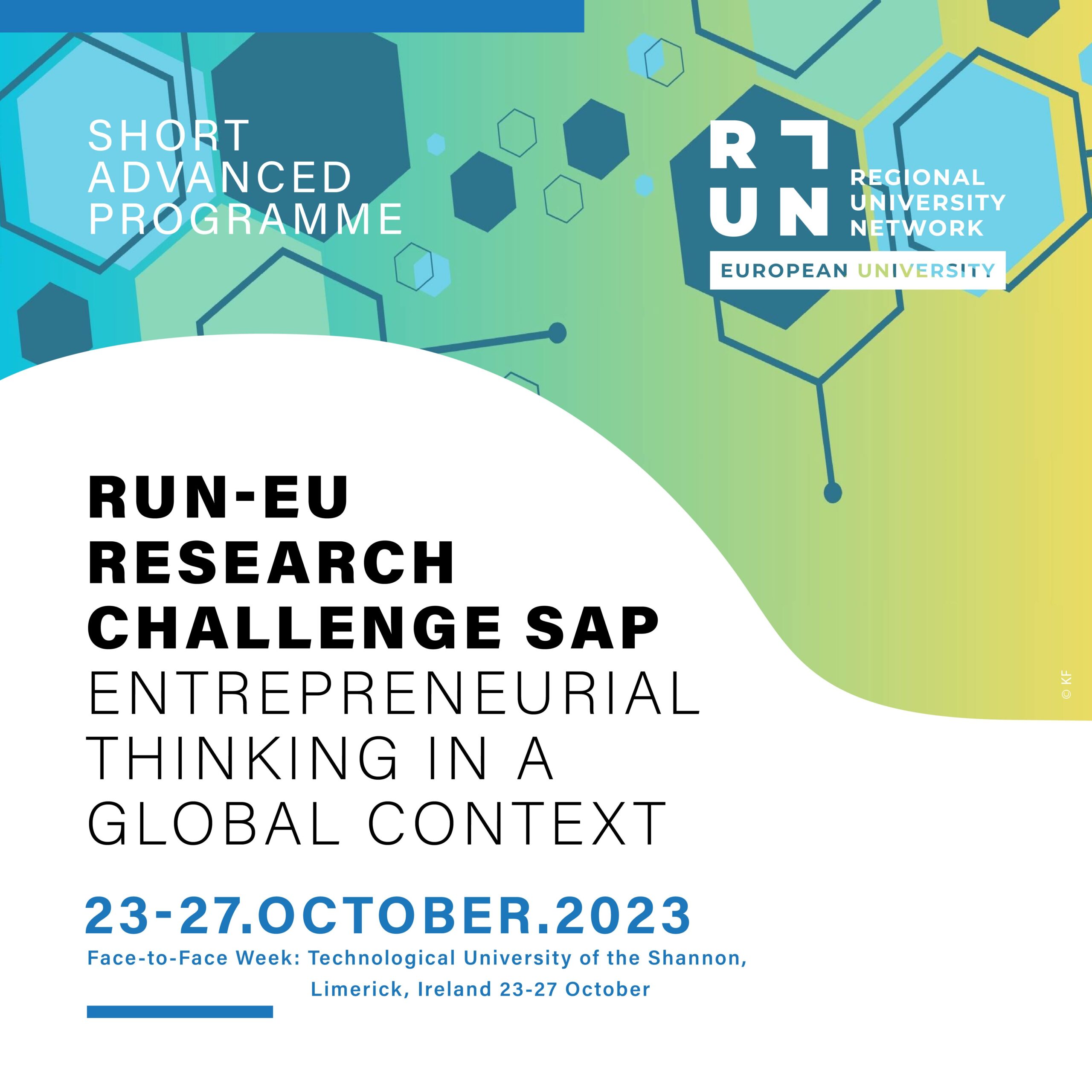 Learning outcomes
At the end of this Short Advanced Programme, students will be able to:
Describe the nature of entrepreneurship in its different forms
Compare and contrast different views of entrepreneurship across differing cultures
Explore a variety of idea generation and evaluation techniques and tools
Have an insight into the business start up process and new product development stages
Understand the role of creativity and the entrepreneurial mindset
Identify the advantages and challanges of the multi-cultural team
Identify the impact of cultural patterns on intercultural communication
Appreciate diverse notions of time, leadership, motivation and decision-making
How to apply
Fill in the application form
Deadline for applications
10 October 2023
Selection criteria
Maximum number of students to be selected: 14
Coordination
Contact runeu@tus.ie if you have any further questions.