EVENT
RUN-EU Research Colloquium and R&I Dissemination Event
---
28 September 2023
The Technological University of the Shannon (Ireland) will host the RUN-EU Colloquium and Research & Innovation Dissemination Event from 24–27 October 2023 which will take place at the Limerick School of Art & Design, and the Athlone Campus.
The RUN-EU Colloquium is a unique platform that brings together brilliant minds from diverse academic and research backgrounds.
It is a celebration of the rich tapestry of knowledge and expertise within the RUN-EU network, uniting scholars and researchers from various disciplines under one roof.
RUN-EU's researchers and academics will have the chance to present their latest findings, breakthroughs, and accomplishments. This event promises to be a fertile ground for intellectual exchange and inspiration, setting the stage for the next wave of innovation.
Beyond academic circles, the RUN-EU Colloquium and Research & Innovation Dissemination Event is a platform where the fruits of research labour are shared with the world.
By engaging a wider audience, we hope to bridge the gap between research and practical application, taking crucial steps towards solving real-world challenges.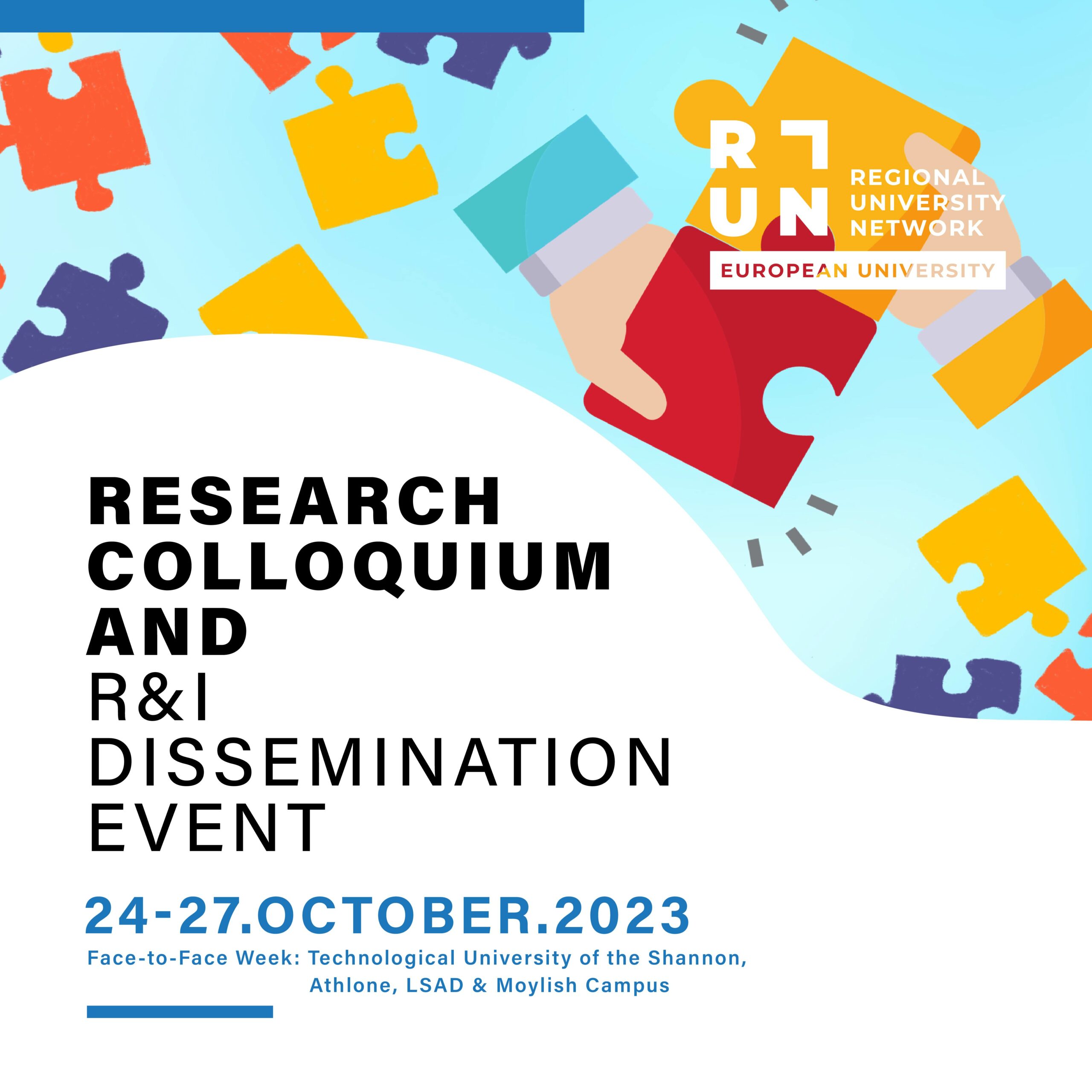 RUN-EU Research Colloquium and R&I Dissemination Event Programme
Tuesday, 24 October
9h30–9h45
Registration
9h45–10h00
Welcome and VP for RDI Introduction
10h00–11h00
Established Researchers Presentation
TUS
IPCA
11h00–11h30
Coffee-Break
11h30–13h00
Established Researchers Presentation
SZE
FHV
HAMK
13h00–14h00
Lunch
14h00–15h00
Established Researchers Presentation
NHL Stenden
UBU
15h00–16h00
Established Researchers Presentation
Howest
IPLeiria
16h00
VP for RDI and IPLeiria Recap on the day
16h30
Free Time
Wednesday, 25 October
9h30–9h45
Good Morning Coffee
9h45–10h00
Introduction to the day by Dr Liam Brown
10h00–11h00
Early Career Researchers Presentation
IPLeiria
Howest
11h00–11h30
Coffee-Break

11h30–13h00
Early Career Researchers Presentation
HAMK
UBU
NHL Stenden
13h00–14h00
Lunch
14h00–15h00
Early Career Researchers Presentation
FHV
SZE
15h00–16h00
Early Career Researchers Presentation
IPCA
TUS
16h00–16h30
Summary of the Research Colloquium
19h00
Dinner
---
Thursday, 26 October
R&I Dissemination Day
9h30
Registration
10h00–10h30
RUN-EU European Research Area (R&I in RUN-EU)
Dr Paudie Murray and Dr Siobhan Moane
10h30–11h30
Digital Marketing and Brand Transitioning
Owen Dunne
11h30–12h00
Coffee-Break
12h00–13h00
Exemplar RUN-EU R&I Projects
13h00–14h00
Lunch
14h00–15h30
WP8 Meeting
15h30–17h00
Cultural Trip
King Johns Castle and Limerick Walking Tour
17h00
Free time / Travel to Athlone
Friday, 27 October
Research Impact Event
9h00–9h30
Registration
9h30–10h00
Coffee and networking event
10h00–10h15
Introduction and welcome
Prof Vincent Cunnane (TUS)
Dr Pippa Hackett (Green Party Senator and Minister of State)
Dr Lisa Moran (TUS)
10h15–12h15
Panel 1 – Title TBC
Dr Rory Hearne (Maynooth University)
Prof Michelle Millar (University of Galway)
Prof Pete Lunn (Economic and Social Research Institute (ESRI) Ireland)
12h15–13h00
Lunch
13h00–15h00
Prof Neil Rowan (TUS)
Dr Zeta Dooly (SETU)
Dr PJ Wall (ADAPT Centre, TU Dublin)
15h00–15h30
Coffee and networking
15h30–16h30
Roundtable discussion
Dr Margaret Brennan Fournet (TUS)
Dr Anthony Johnson (TUS)
Dr Rick Officer – VP of Research and Innovation (ATU)
Jan Van Der West (RUN EU)
Graduate students at TUS – names TBC
16h30
Close
The programme is subject to change and will be updated soon.
Coordination
TUS, Ireland
Contact runeu@tus.ie if you have any queries.