EVENT
RUN-EU Super Week – 5th edition
---
27 September 2023
The Polytechnic University of Cávado and Ave (IPCA) will host the 5th edition of the RUN-EU Super Week from 23–27 October 2023, in Barcelos, Portugal.
The Super Week encompasses a range of activities within the Youth Exchange School programme (YES), specifically themed as The Analogue Strikes Back. This initiative offers an inclusive and enriching short-mobility experience aimed at students, equipping them with invaluable skills, knowledge, and intercultural competencies.
This occasion presents a significant opportunity for attendees to convene, engage in networking opportunities with colleagues from the RUN-EU alliance, and collaborate on the development of future-oriented skills for both students and educators.
Participants can anticipate gaining valuable insights from like-minded professionals through sharing, inspiring one another, and learning from best practices within the educational sector.
The programme includes participation in a design factory boot camp, where attendees will collaborate on the creation of new educational models and teaching strategies. This effort will focus on pivotal subjects such as pedagogical innovation, to prepare students with the required future skills for success in the 21st century. Building resilience is among the critical aspects addressed during this event.
Additional details regarding the event's location, a comprehensive programme schedule, specific timings, and further details will be forthcoming in the in the upcoming weeks.
Contact run-eu@ipca.pt if you have any queries.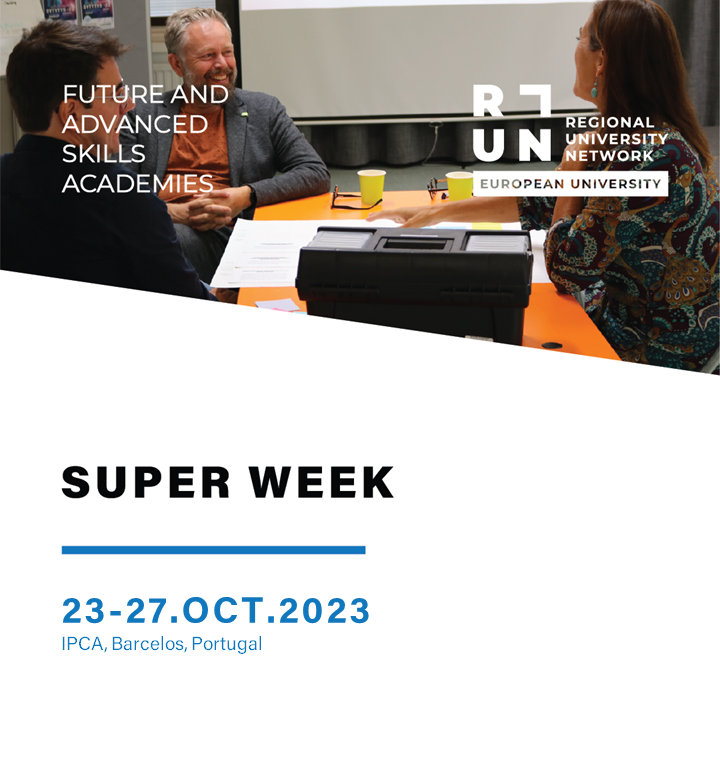 Pedagogical Development Programme
Monday, 23 October
9h30–10h30
Welcome & Teambuilding
10h30–11h00
Break
11h00–12h30
SuperWeek Mural 101
(My Pic & Who Are We)
12h30–14h00
Free time for lunch
14h00–15h30
Introduction to RUN-EU Pedagogical Framework • HAMK
15h30–16h00
Break
16h00–17h00
Introduction to RUN-EU Pedagogical Framework • HAMK
Tuesday, 24 October
9h30–10h30
How to Develop Future Skills
50+10 Concept Presentation
10h30–11h00
Break
11h00–12h30
50+10: Sharing Good Ppractices
12h30–14h00
Free time for lunch
14h00–15h30
RUN-EU Pedagogical Framework as a Tool for Developing Your Own Teaching • NHL Stenden
15h30–16h00
Break
16h00–17h00
Campus Tour
Wednesday, 25 October
9h30–10h30
50+10: Skill Challenge
10h30–11h00
Break
11h00–12h30
Skill Co-Creation Workshop
12h30–13h30
Free time for lunch
13h30
Campus Bus Stop
14h00–17h00
Site Visit to Braga
19h00
Return to Campus
Thursday, 26 October
9h30–10h30
50+10
Sprint 'Week' – Rapid Prototype
10h30–11h00
Break
11h00–12h30
50+10
Sprint 'Week' – Rapid Prototype
12h30–14h00
Free time for lunch
14h00–17h00
Site visit to Barcelos
Friday, 27 October
9h30–10h30
Show your results: Super Week Mural
10h30–11h00
Break
11h00–12h30
Working Session: RUN-EU Future Collaboration
12h30–14h00
Farewell Snack (IPCA's courtesy)
Design Factory Bootcamp Programme
Monday, 23 October
9h30–10h30
Welcome & Teambuilding
10h30–11h00
Break
11h00–12h30
SuperWeek Mural 101
(My Pic & Who Are We)
12h30–14h00
Free time for lunch
14h00–15h30
Building DF Culture • TUS /
HAMK
15h30–16h00
Break
16h00–17h00
Building DF Culture • TUS /
HAMK
Tuesday, 24 October
9h30–10h30
How to Develop Future Skills:
50+10 Concept Presentation
10h30–11h00
Break
11h00–12h30
50+10: Sharing Good Ppractices
12h30–14h00
Free time for lunch
14h00–15h30
Create Your Own DF Mission, Vision & Strategy • ESD
15h30–16h00
Break
16h00–17h00
Campus Tour
Wednesday, 25 October
9h30–10h30
50+10: Skill Challenge
10h30–11h00
Break
11h00–12h30
Skill Co-Creation Workshop
12h30–13h30
Free time for lunch
13h30
Campus Bus Stop
14h00–17h00
Site Visit to Braga
19h00
Return to Campus
Thursday, 26 October
9h30–10h30
50+10
Sprint 'Week' – Rapid Prototype
10h30–11h00
Break
11h00–12h30
50+10
Sprint 'Week' – Rapid Prototype
12h30–14h00
Free time for lunch
14h00–17h00
Site visit to Barcelos
Friday, 27 October
9h30–10h30
Show your results: Super Week Mural
10h30–11h00
Break
11h00–12h30
Working Session: RUN-EU Future Collaboration
12h30–14h00
Farewell Snack (IPCA's courtesy)