YOUTH EXCHANGE SCHOOL
The Analogue Strikes Back
---
7 September 2023
The Youth Exchange School programme (YES), is an inclusive and enriching learning short-mobility experience for students, equipping them with valuable skills, knowledge, and intercultural competencies while promoting the EU's priority areas and fostering a sense of European identity and cooperation.
Coordinated by the Polytechnic of Cávado and Ave (IPCA), this new edition is called 'The Analogue Strikes Back'.
During this YES, students will be taken to a distant moment in space-time without computers, where the Internet still remains a mere figment of the imagination, a world untouched by the enigmatic allure of smartphones and technology.
On this transformative journey, students will confront a profoundly new reality that immerses them in an analogue-dominated environment that will be explored through various media such as music, imagery, photography, and design.
Students will explore analogue tools and techniques, venturing into the multi-dimensional essence of physical objects: weight, texture, shape, and volume will guide this process, transcending the one-dimensional constraints of the digital domain.
This in-depth experience will extend beyond the boundaries of the learning environment, as workshops and outdoor activities will be promoted to facilitate debate and reflection on the role of digital technologies and tools today, particularly in education.
Above all, this adventure aims to foster creativity, authenticity and originality. Students will be actively encouraged to engage in hands-on experimentation, embrace new mindsets, and step out of their comfort zones through the connections and intersections of analogue processes.
Date
From 23 to 27 October 2023
Location
IPCA, Barcelos, Portugal
Mode of delivery
On-Campus
Language of instruction
English
Academic recognition
To be defined by each home higher education institution.
Selection criteria
Maximum number of students to be selected: 40
Motivation (why would you like to take the YES programme, how will you apply to the course, and what will you bring as a student)
Balanced participation of RUN-EU member institutions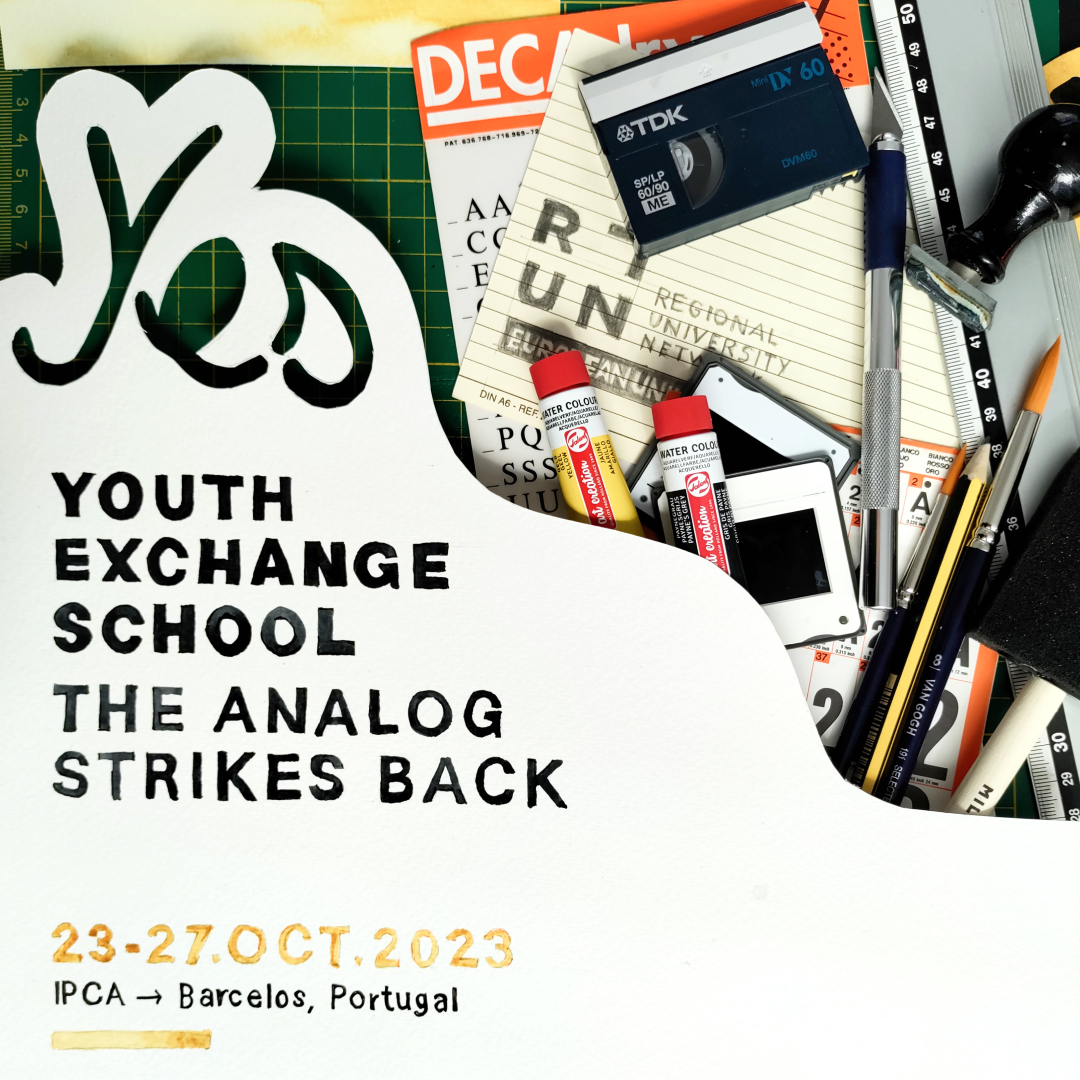 Learning Outcomes
At the end of this RUN-EU SAP, participants will be able to:
Gain a historical perspective in an environment that was once dominated by analogue technology and techniques.
Explore the multi-dimensional nature of physical objects.
Recognise and manipulate weight, texture, shape, and volume, pushing the boundaries of the digital medium.
Critically analyse the impact of digital advances and explore alternative paths.
Foster creativity, authenticity, and originality.
Engage in hands-on learning, embrace new ways of thinking, and step out of comfort zones.
Develop critical thinking skills through the study of analogue tools and techniques.
Develop an awareness of the impact of digital technologies, social dynamics and cultural heritage on society, fostering a sense of responsibility and the ability to make informed choices.
Learn to collaborate effectively, share ideas, and respect different points of view, promoting a sense of collective learning and shared experience.
How to apply
Fill in the application form
Deadline for applications
20 September 2023
Eligible participants
RUN-EU students from any study cycle.