SHORT ADVANCED PROGRAMME
Geopolitics in a Rapidly Changing World
---
13 September 2023
Jointly organised by the NHL Stenden University of Applied Sciences (NHL Stenden) and the University of Győr – Széchenyi István University (SZE), the RUN-EU Short Advanced Programme (SAP) 'Geopolitics in a Rapidly Changing World', will help prepare RUN-EU students for the challenges in geopolitical context.
This SAP goal is to develop students' critical thinking skills and provide them with a framework for understanding the interplay between geography, power, economics, and international relations in global affairs. Which will entail analysing geopolitical phenomena from four different angles: legal, security, economic and environmental.
Date
From 16 October to 1 December 2023
Face-to-face week
From 27 November to 1 December at the NHL Stenden (Leeuwarden, The Netherlands)
Mode of delivery
Blended
Language of instruction
English
ECTS credits
3
Academic recognition
To be defined by each home institution
Eligible participants
All RUN-EU students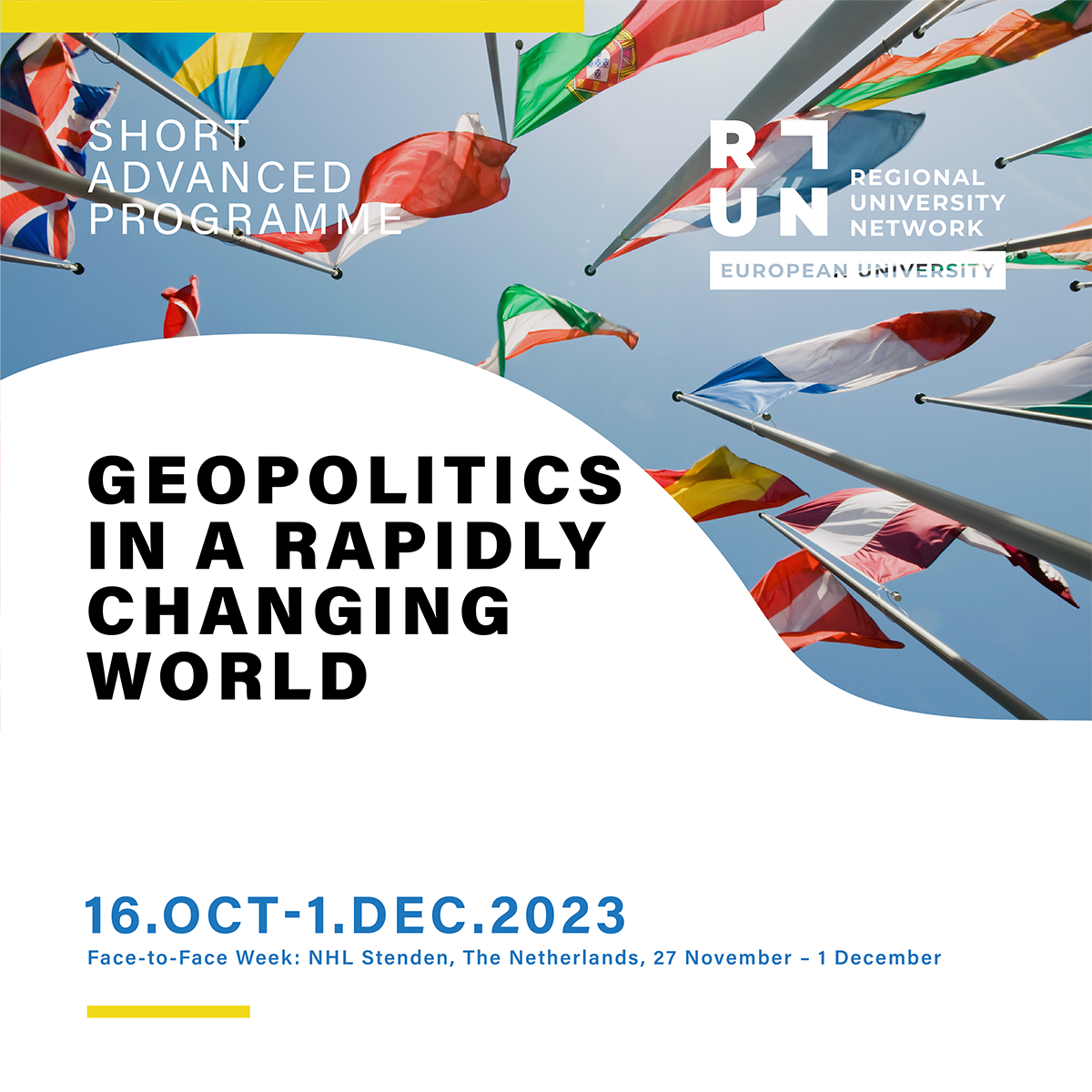 Learning outcomes
At the end of this Short Advanced Programme, students will be able to:
increase their understanding of the role of geopolitics in global affairs.
learn to encounter, understand and analyse geopolitical issues from a legal, economic, safety and environmental point of view.
develop research, analytical and presentation skills by examining specific geopolitical conflicts.
develop critical thinking and problem-solving skills.
collaborate with others to achieve a common goal.
interact with people from different cultures, comparing diverse linguistic/cultural features.
think creatively (generate new ideas, evaluate and select the most appropriate for the project.
How to apply
Fill in the application form
Deadline for applications
22 September 2023
Selection criteria
Background, motivation, wide representation of subject areas/fields and balanced participation of RUN-EU member institutions.