YOUTH EXCHANGE SCHOOL
AI for a Sustainable Future: Unleashing Interdisciplinary Innovations
---
8 Agosto 2023
The Youth Exchange School programme (YES), is an inclusive and enriching learning short-mobility experience for students, equipping them with valuable skills, knowledge, and intercultural competencies while promoting the EU's priority areas and fostering a sense of European identity and cooperation.
Coordinated by the Vorarlberg University of Applied Sciences (FHV), this second edition is called 'AI For a Sustainable Future: Unleashing Interdisciplinary Innovations' and will explore how Artificial Intelligence can be harnessed to address the major challenges of the 21st century, from environmental preservation and social inclusion to digital advancement and democratic governance.
The event will provide a platform for university students from various fields to exchange ideas, enhance their understanding of Al, and collaborate to develop innovative, Al-powered solutions for a sustainable future. By fostering an interdisciplinary approach, the program seeks to empower the next generation of leaders, innovators, and thinkers to navigate the Al-centric world.
Date
From 20 to 24 November 2023
Location
FHV, Austria
Mode of delivery
On-Campus
Language of instruction
English
Academic recognition
To be defined by each home higher education institution.
Eligible participants
RUN-EU students from any study cycle and from all backgrounds, no explicit AI expertise is required.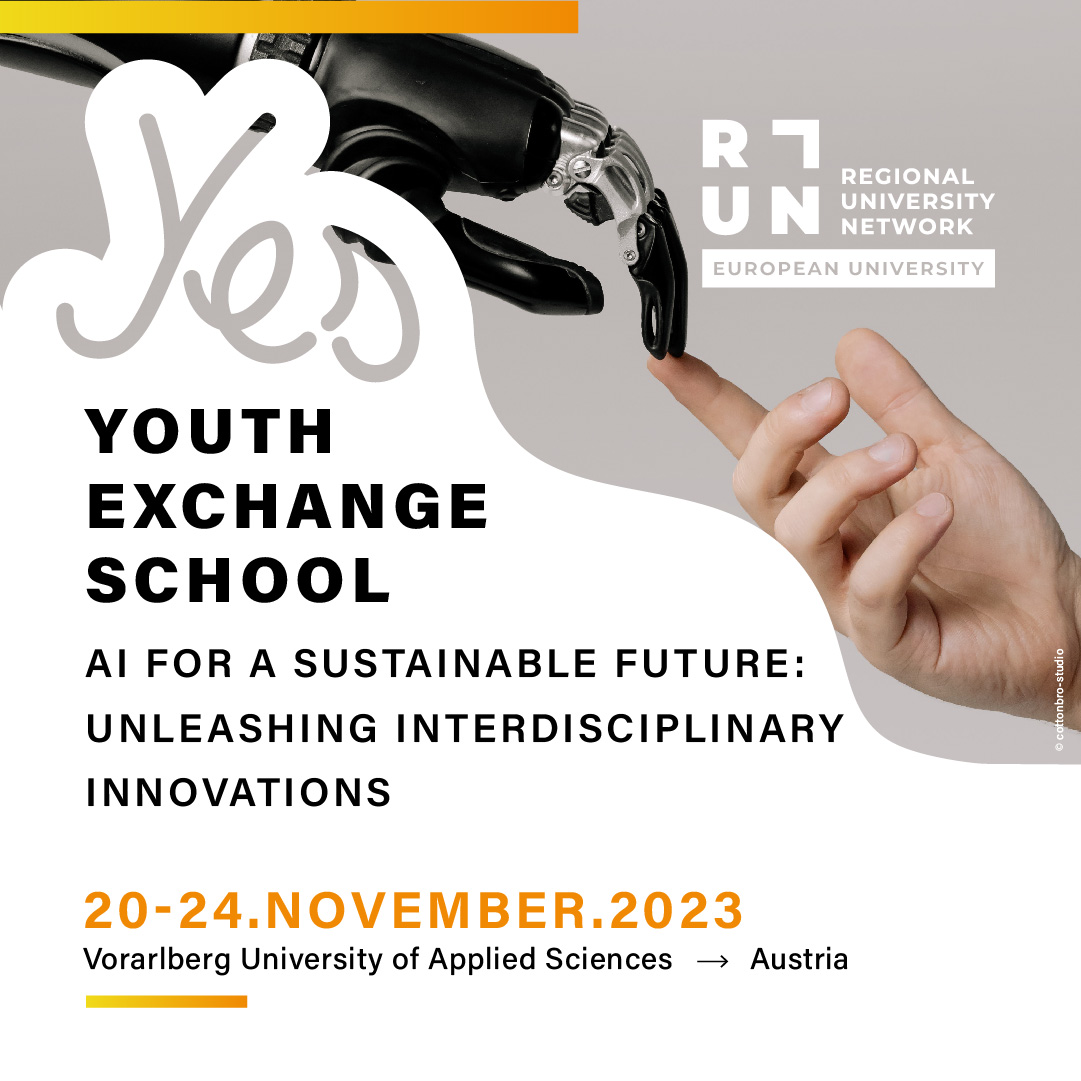 How to apply
Fill in the application form
Deadline for applications
15 September 2023
Selection criteria
Maximum number of students to be selected: 36
If the number of applicants exceeds the number of places available, applications will be selected based on their sustainable challenge statement