SHORT ADVANCED PROGRAMME
Conflict Resolution
Mediation in Action
---
30 June 2023
The Short Advanced Programme (SAP) 'Conflict Resolution – Mediation in Action' is jointly coordinated by the Polytechnic of Leiria, the Polytechnic of Cávado and Ave (IPCA), and the NHL Stenden University of Applied Sciences (NHL Stenden).
Mediation is an alternative dispute resolution (ADR) mechanism based on the dialogue between parties, facilitated by a mediator, aimed at the construction of an agreement that satisfies their interests.
It empowers individuals, families, and communities by providing them with the necessary knowledge, resources, and strategies to create meaningful solutions that will work for all parties involved. With the right support, mediation can be a powerful and transformative tool for resolving conflicts and improving relationships.
In this SAP, students will become familiar with the characteristics of mediation, its procedure, and its practical application.
Students will also acquire communication and conflict management techniques and will develop ethical and cultural awareness, emotional sensitivity, personal empathy, creativity, and balance.
Date
From 18 September to 13 October 2023
Face-to-face week
From 9 to 13 October at IPCA (Portugal)
Mode of delivery
Blended
Language of instruction
English
ECTS Credits
3
Academic recognition
To be defined by each home higher education institution.
Eligible participants
All RUN-EU students.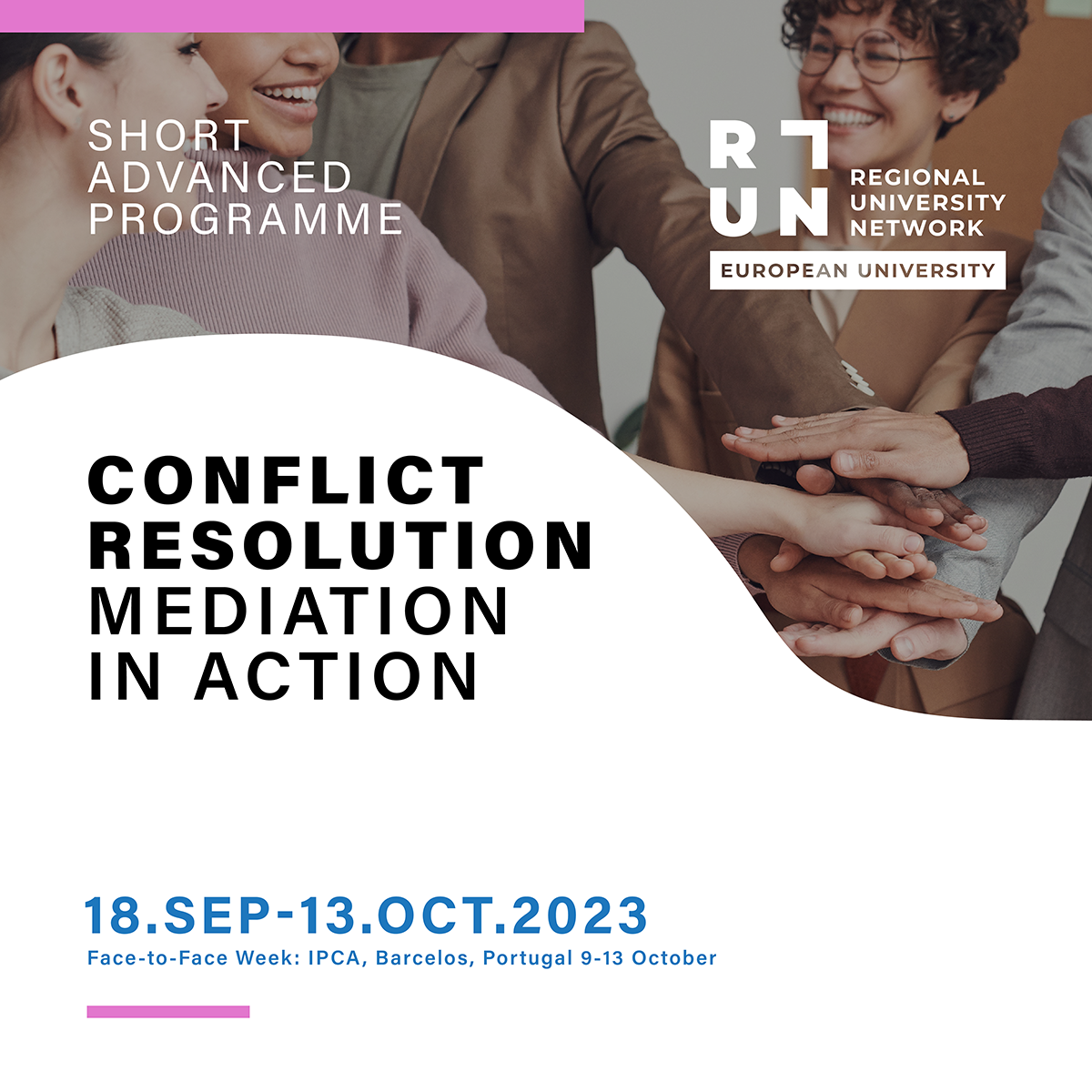 Learning outcomes
At the end of this Short Advanced Programme, students will be able to:
Distinguish mediation from other out-of-court mechanisms (such as arbitration).
Understand the framework of mediation in Europe.
Be skilled in communication techniques in a mediation proceeding.
Identify and apply the stages of the mediation process.
Be skilled in and apply some of the mediator techniques.
How to apply
Fill in the application form
Deadline for applications
14 July 2023
Selection criteria
Selection will be based on requirements and submitted applications concerning motivation.
The selection team will also take steps toward ensuring diversity and representativity.
Total number of students to be selected: 30.