SHORT ADVANCED PROGRAMME
Hack Your Device, Explore an Island – Fundamentals of Cyber Security
---
2 June 2023
Jointly coordinated by the NHL Stenden University of Applied Sciences (NHL Stenden), the Polytechnic of Leiria, Polytechnic of Cávado and Ave (IPCA), the Technological University of the Shannon (TUS), and the Vorarlberg University of Applied Sciences (FHV), the RUN-EU Short Advanced Programme (SAP) 'Hack Your Device, Explore an Island Fundamentals of Cyber Security' will focus on diagnosing loT-related threats, detecting current and future attacks, effectively communicating for information security, and applying business principles for analysis and decision-making.
It will focus on an introduction to cybersecurity, network security, cryptography, and intercultural competence in (neuro) diverse teams as well.
Students will do group work to perform a penetration test on an 'Internet of Things' device of their choice and learn how to hack it, showcasing their creativity and problem-solving skills.
Final deliverables include a pen-testing report, presentation, and plenty of fun.
Basic computer knowledge and comfort with the technology required.
Date
From 11 September to 9 October 2023
Face-to-face week
From 11–15 September at the NHL Stenden University of Applied Sciences (Leeuwarden, The Netherlands)
Mode of delivery
Blended
Language of instruction
English
Academic recognition
To be defined by each home higher education institution.
Generally, most students will have this RUN-EU SAP certified in their diploma supplement, as a minimal condition
Eligible participants
All RUN-EU degree-seeking students.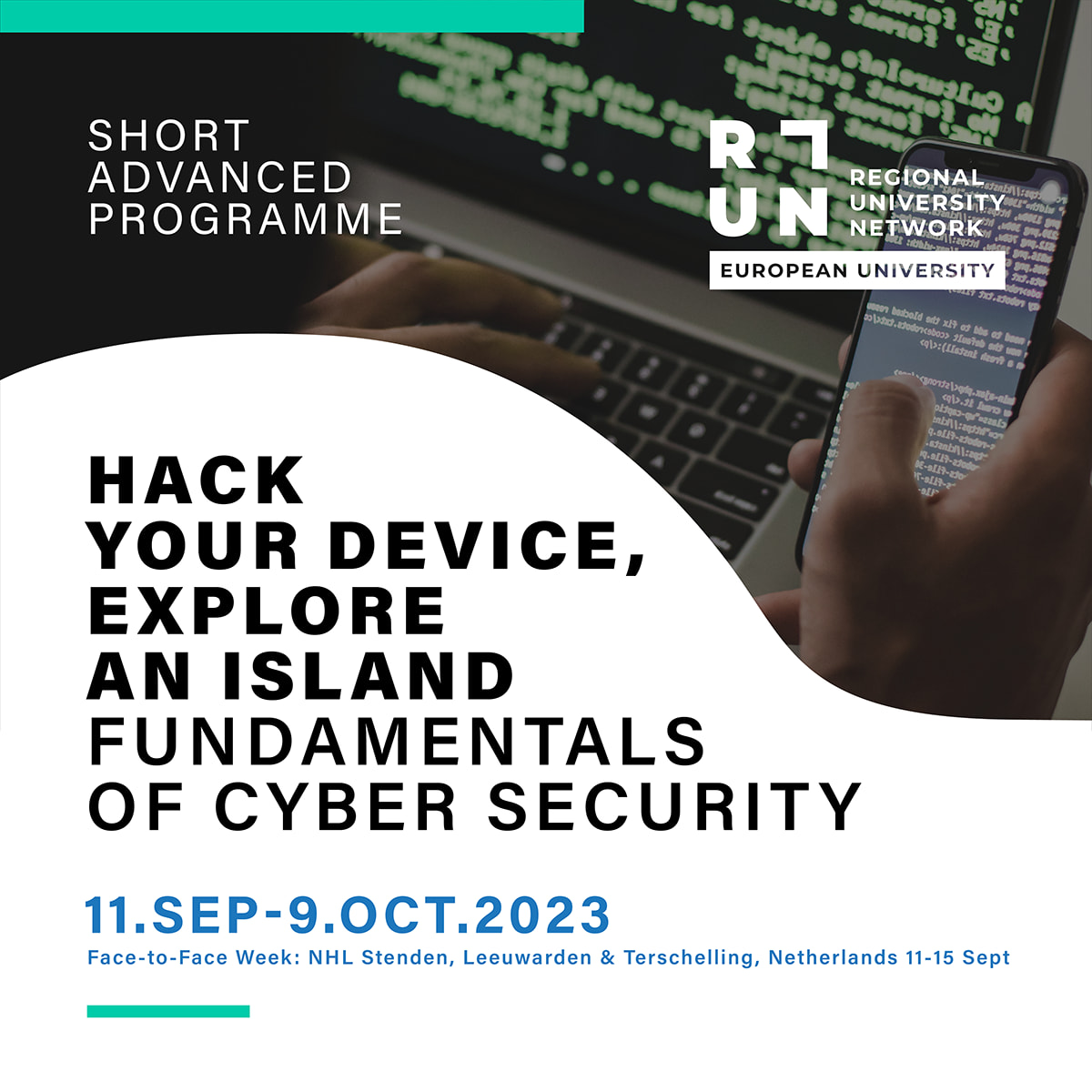 Learning outcomes
At the end of this Short Advanced Programme, students will be able to:
Gain fundamental knowledge about loT and cyber security.
Apply this knowledge to diagnose and investigate cyber threats in loT.
Diagnose and detect attacks on computer systems and networks.
Apply critical thinking and problem-solving skills to identify current and future attacks.
Apply business principles to analyse and interpret data for planning and decision-making in information security.
Effectively communicate proposed security solutions to technical and non-technical decision-makers.
How to apply
Fill in the application form
Deadline for applications
16 June 2023
Selection criteria
Selection will always be based on requirements and submitted applications concerning motivation.
A minimum of 10 places will be reserved for each of the five host institutions (NHL Stenden, Polytechnic of Leiria, IPCA, TUS, and FHV).
The remaining places will be distributed across applicants randomly
The total number of students to be selected is 30.
The selection team will also take steps toward ensuring diversity and representativity.