EVENT
RUN-EU Dissemination Event
---
23 April 2023
The Polytechnic of Cávado and Ave (Portugal) will host the RUN-EU Dissemination Event between 15 and 19 May 2023.
Under the theme Image and Communication in RUN-EU, this week's activities will focus on Work Package 8 (WP8), which is responsible for all the RUN-EU communication and dissemination.
WP8 is a transversal Work Package, linked to all the RUN-EU WPs and aims to develop and implement a comprehensive communication, dissemination, and exploitation strategy, which includes establishing a consistent brand, creating communication channels, assuring the social media presence, developing attractive promotional materials, and organising dissemination and exploitation events.
The outcomes include communication and dissemination and outreach activities, such as events for external audiences.
The in-person event will bring together the communication staff of all the RUN-EU members.
Two additional simultaneous RUN-EU events will be hosted at IPCA during the same week.
The Short Advanced Programme Challenge for Staff • RUN-EU Path, and the InWeek – IPCA's international week – that aims to provide an enriching intercultural learning experience for international participants and IPCA's academic community.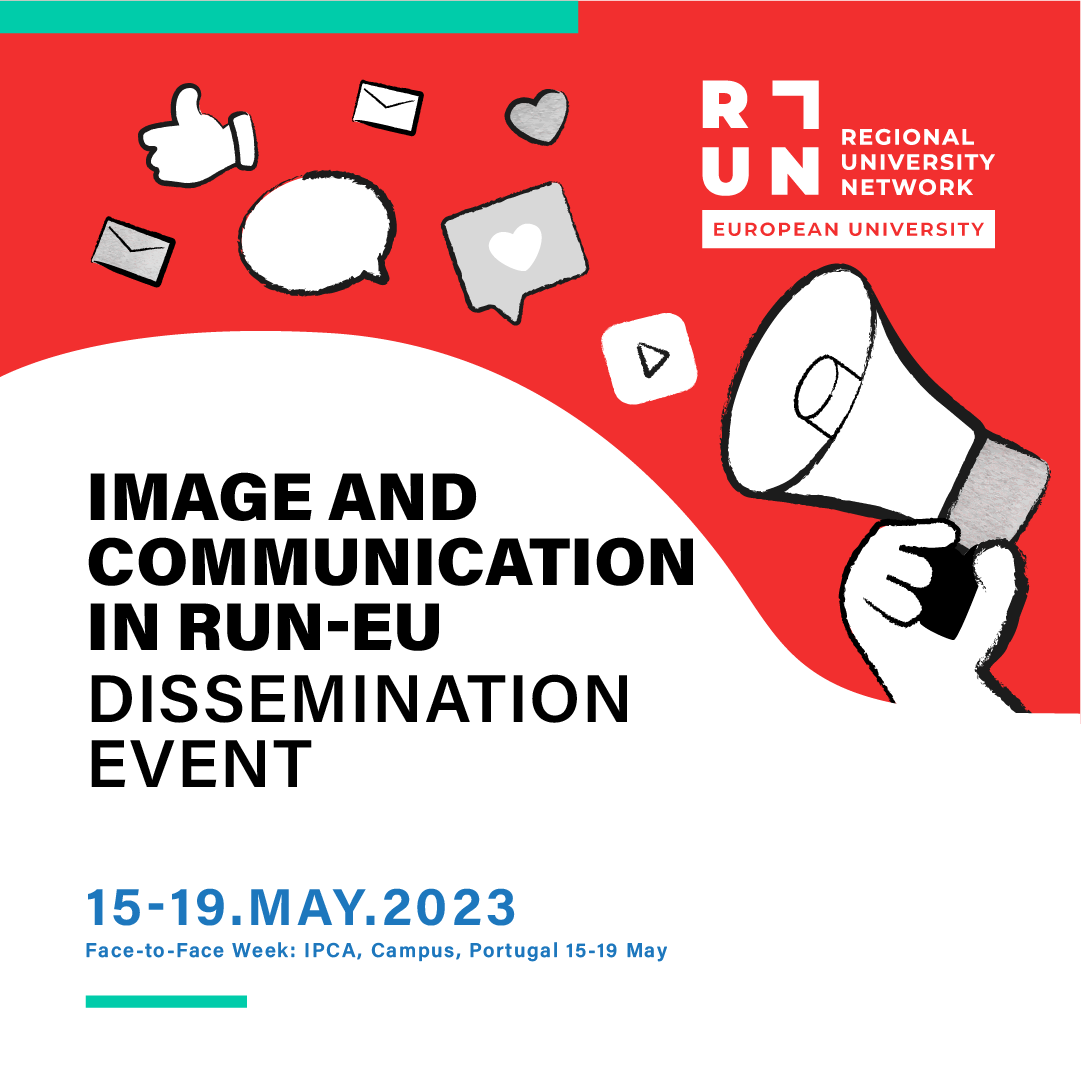 RUN-EU Dissemination Event
Monday, 15 May
10h00-12h00
Welcoming Ceremony
Hall/Auditorium EST
12h00-12h45
IPCA Campus Tour + Family Picture
12h45-14h30
Lunch
Canteen
14h30-17h00
WP8 – RUN-EU members' presentation

Tuesday, 16 May
9h30-11h00
Graphic Design Workshop
12h00-14h00
Lunch
Canteen
14h00-14h30
Departure to Guimarães
14h30-17h00
Visit the city center of Portugal's birthplace
Guimarães
Wednesday, 17 May
10h00-12h00
Digital Marketing
12h00-14h00
Lunch
Canteen
14h00-17h00
DDS Guests
---
Thursday, 18 May
10h00-12h00
RUN-EU Community Workshop
Active Learning Strategies
12h00-14h00
Lunch
Canteen
12h00-13h00
RUN-EU 2.0 Presentation • Ruaidhri Neavyn
Online Session
20h00
Networking Dinner
Friday, 11 November
Departure
Coordination
IPCA, Portugal
Polytechnic of Leiria, Portugal