SHORT ADVANCED PROGRAMME
Sustainable Tourism Destinations
---
7 March 2023
The RUN-EU Short Advanced Programme (SAP) Sustainable Tourism Destinations, is jointly organised by the NHL Stenden University of Applied Sciences (NHL Stenden), and the Polytechnic of Cávado and Ave (IPCA)
Sustainability in tourism is an inevitable path and is being embraced with increasing awareness in the sector worldwide. It must make appropriate use of environmental resources, respect the socio-cultural authenticity of communities and ensure that economic activities are viable in the long term.
This SAP provides an insight into the social, cultural, economic and environmental perspectives of tourism. It aims to raise awareness of sustainability and the circular economy, reflects on good sustainability practices related to the tourism sector, and trains for the development of applied tourism projects based on sustainable development.
Date
From 10 to 28 April 2023
Face-to-face week
From 24 to 28 April at the Polytechnic of Cávado and Ave (Barcelos, Portugal)
Mode of delivery
Blended
Language of instruction
English
ECTS credits
3
Academic recognition
RUN-EU SAP certified in the Diploma Supplement
Eligible participants
Priority is given to RUN-EU master students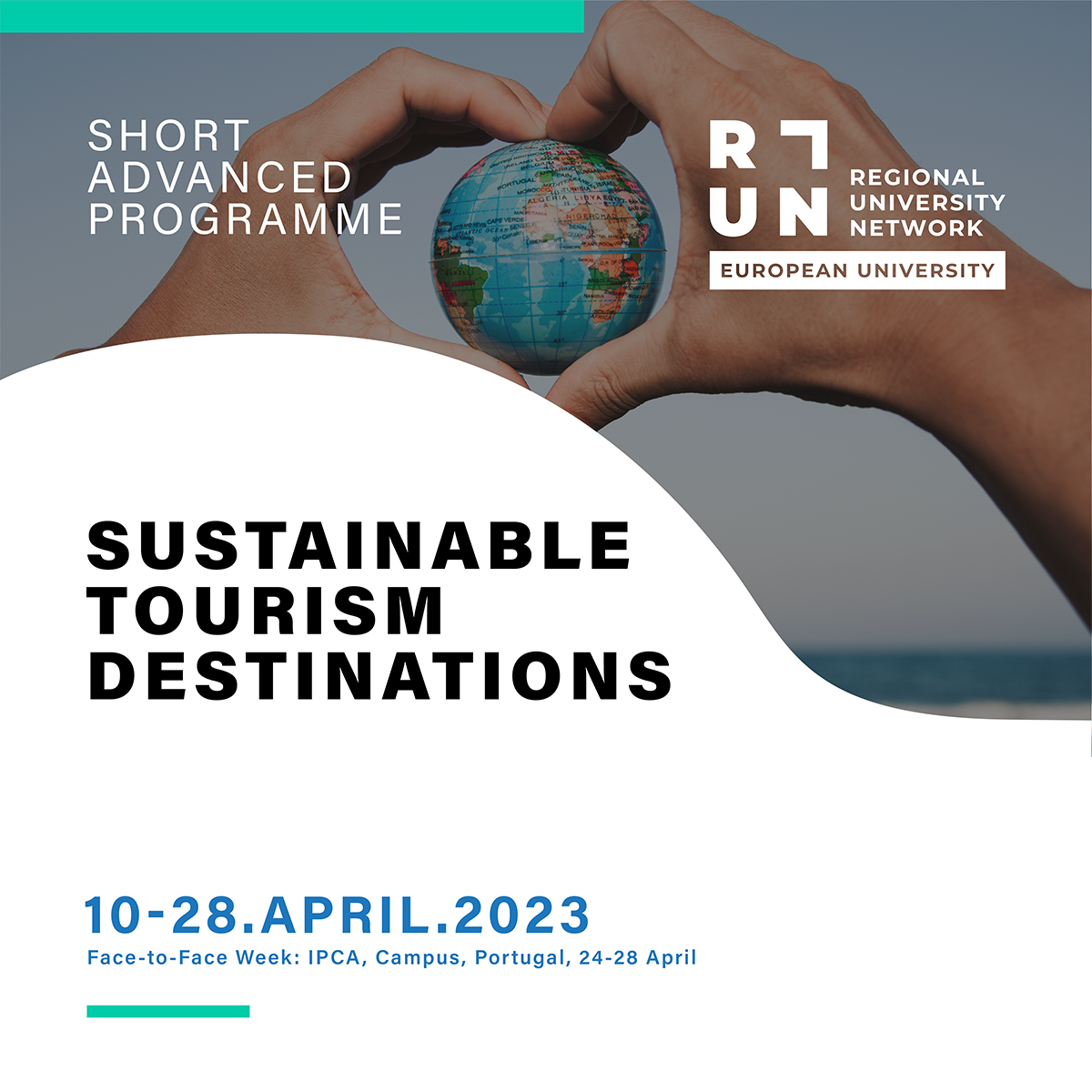 Learning outcomes
At the end of this Short Advanced Programme, students will be able to:
Obtain an in-depth understanding of the complex interrelationships between tourism, economy, society and environment
Critically analyse trends, developments as well as key issues and challenges in the field of sustainable destination development/management from the perspective of different stakeholders in a given destination
Gain necessary skills to address mentioned issues and challenges in the field of sustainable destination development/management
Report on the findings and provide strategic advice to selected stakeholder groups
Exchange knowledge and experiences with students, lecturers, researchers and experts from the work field
Cooperate successfully in a multicultural, diverse community, fostering mutual respect and equality.
How to apply
Fill in the application form
Deadline for applications
17 March 2023
Selection criteria
Priority is given to Master students.
Should the number of applications exceed the places available we propose introducing additional selection criteria.
In this case, selection will be based on study performance.