SHORT ADVANCED PROGRAMME
Circular Design with Plastics – 2nd Edition
---
20 October 2022
Circular economy is a hot topic and a trendy term. However, what does it really imply for industry, society, and development? What are the existing and emerging challenges?
This is a RUN-EU Short Advanced Programme (SAP), jointly coordinated by Polytechnic of Cávado and Ave (IPCA), NHL Stenden University of Applied Sciences (NHL Stenden), and the Technological University of the Shannon (TUS), aimed at those interested in becoming familiar with Circular Design (specifically with Plastics), Circular Economy, and Circularity.
Participants will be introduced to the topic of Circular Design, starting from a variety of concepts, passing through several important approaches and methodologies, and finally covering some specific tools.
Date
From 28 November to 16 December 2022
Face-to-face week
From 5 to 9 December at Polytechnic of Cávado and Ave (Portugal)
Mode of delivery
Blended
Language of instruction
English (B2)
Academic recognition
To be defined by each higher education institution.
Generally, most students will have this RUN-EU SAP certified in their diploma supplement, as a minimal condition.
Eligible participants
RUN-EU students from any study cycle, with a particular emphasis on students with engineering, design and management degrees.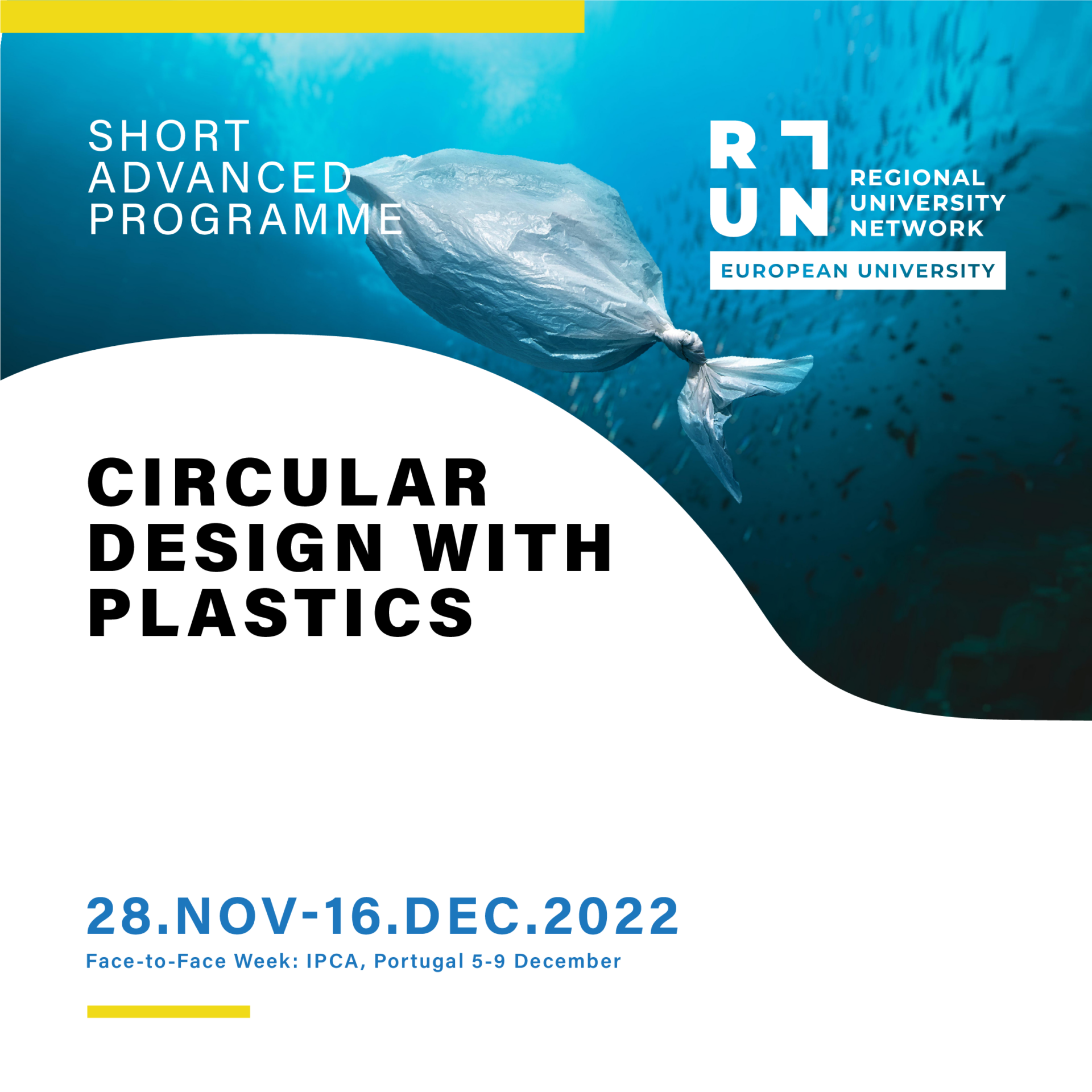 Learning outcomes
At the end of this Short Advanced Programme, students will be able to:
Appreciate current driving features for sustainability in a multidisciplinary and international context;
Understand the concepts of circular design, circular economy, circularity, and eco-design (among others);
Recognize the key challenges and opportunities for improving circularity in plastics, and how to quantify it;
Understand the different perspectives of eco-design / design for X;
Understand circular supply chains and sustainable business modelling.
How to apply
Fill in the application form
Deadline for applications
31 October 2022
Selection criteria
Order of submission, motivation, wide representation of fields of study and balanced participation of RUN-EU member institutions.