SHORT ADVANCED PROGRAMME
Aspects of Wellbeing – Ecological Challenge
---
17 October 2022
In the 2022 Students Week, hosted by Häme University of Applied Sciences, there will be four Short Advanced Programme Challenges on 'Aspects of Wellbeing'.
The Ecological Challenge will focus on the ecological aspects of wellbeing.
Students will take part in on-location presentations, workshops, and multidisciplinary team assignments and cooperation. These on-location activities assume short-term international mobility.
Date
From 7-11 November 2022
Mode of delivery
Face-to-face at HAMK (Hämeenlinna, Finland)
Language of instruction
English
ECTS credits
1 ECTS credit
Academic recognition
To be defined by each higher education institution.
Generally, most students will have this RUN-EU SAP certified in their diploma supplement, as a minimal condition
Eligible participants
Open to all RUN-EU students. Prior to the members of Student Councils in each RUN-EU member universities.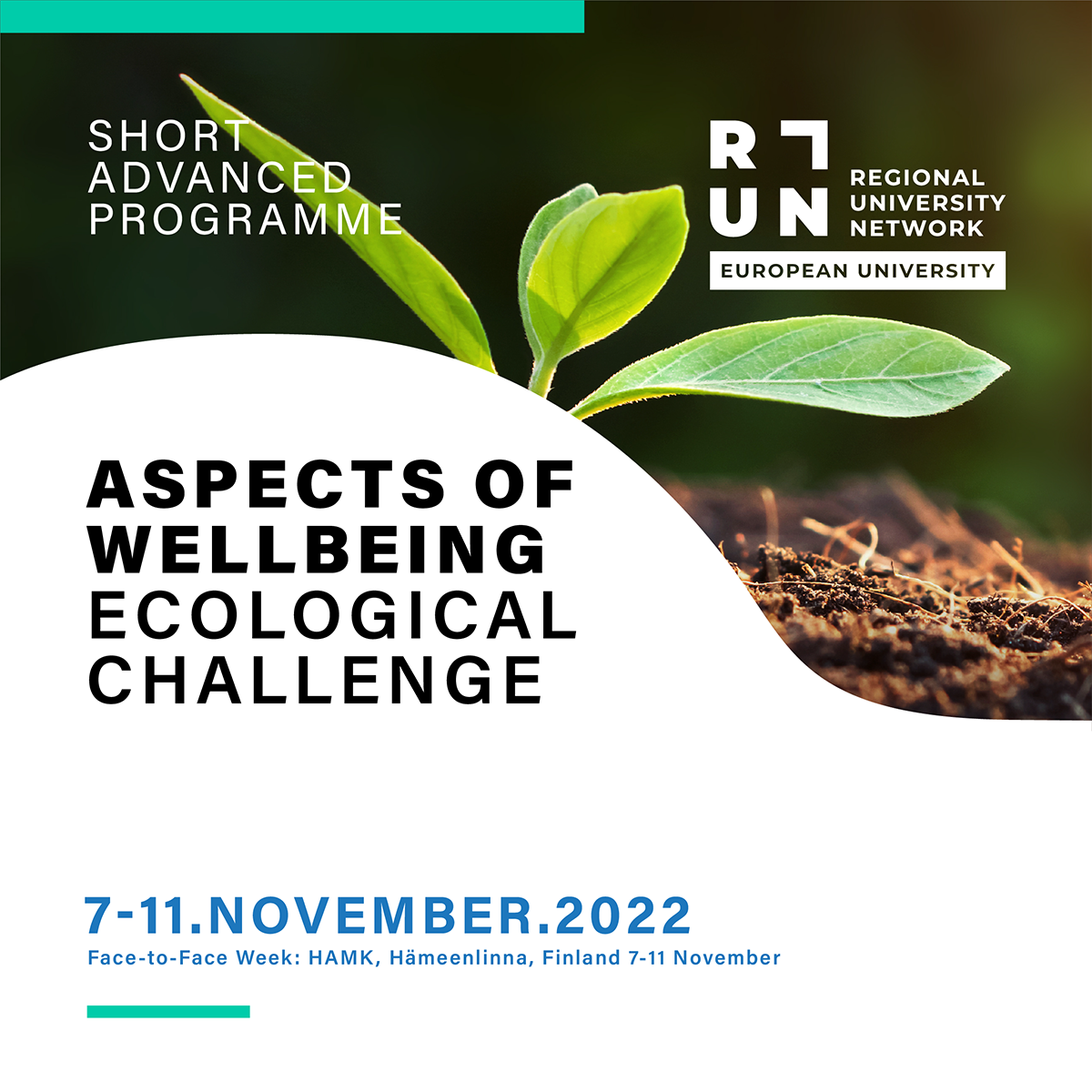 Proposed learning outcomes
At the end of this Short Advanced Programme, you will:
foster innovation implementation while broadening perspective on how the business environment changes with regards to supporting a lower ecological footprint
become a true entrepreneurial self, with confidence in your own skills
balance and maintain a true ecological path while creating sustainable value for yourself and the society you are part of
become an impact changer and nurture the passion for a healthy lifestyle that is harmless to the environment
acquire transdisciplinary skills for adaptation to ever-changing environments
get a clear view on the environmental needs and understand the different dimensions of sustainability
design an ecologically balanced society and accommodate wellbeing within its development
define and claim own wellbeing, personally and professionally
How to apply
Fill in the application form
Deadline for applications
23 October 2022
Selection criteria
Students will be selected based on fulfilment of requirements and information provided in the submitted application.
Total number of students to be selected
25
Coordination
If you have any further questions, please send an email to run-eu@hamk.fi.