NEWS
RUN-EU PLUS ICARUS 3 Conference 2023
---
14 November 2023
Hosted by the NHL Stenden University of Applied Sciences, the RUN-EU PLUS Annual International Conference on Applied Research with Business and Society (ICARUS 3), will be held online on 14 December 2023 (10h00-15h00 CET).
The ICARUS 3 will present inspiring cases on practice-based research in and with business and society in the areas of Sustainability, Digitalisation and Social Innovation from across the RUN-EU. In addition, the current state of development of RUN-EU practice-based research master's and doctoral programmes is presented.
Three parallel, interactive sessions are planned to provide time and space to elaborate on the possibilities for business, industry, and societal partners to collaborate on practice-based research projects with the RUN-EU alliance, in the areas of Sustainability, Digitalisation and Social Innovation.
This will be the third RUN-EU PLUS conference that will engage research students, scholars, researchers, and business and society stakeholders in discussions across the RUN-EU universities members and the associated industry, business and community partners network.
If you would like to attend the event, please register via the registration form. After registering you will receive a confirmation email with further details. Registration closes on 6 December 2023.
We look forward to welcoming all participants and presenters on 14 December 2023.
For any queries, please contact ICARUS3@nhlstenden.com.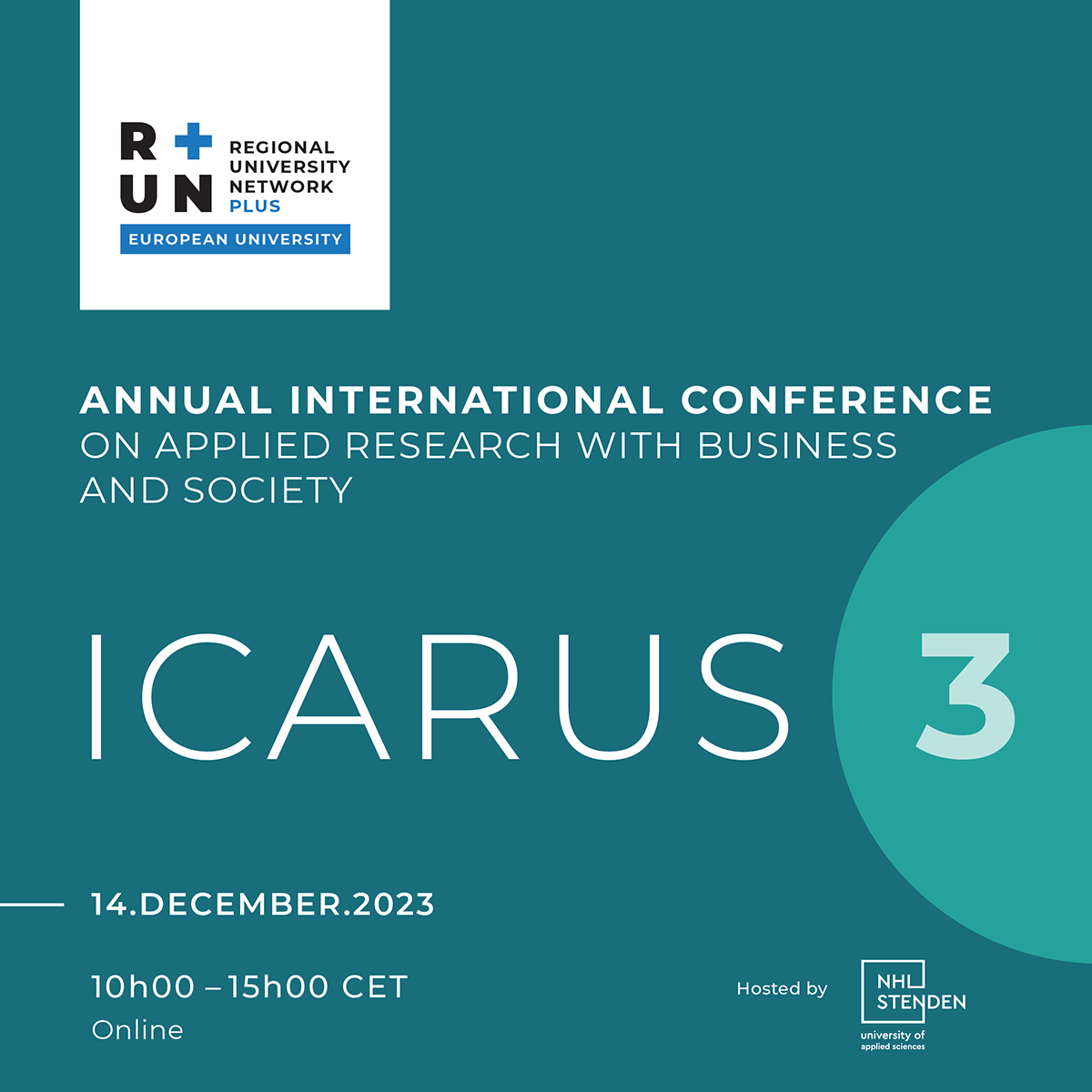 The ICARUS 3 conference will:
Provide a space for the presentation of the most relevant scientific results in the priority areas, including special tracks for students of professional research programmes;
Contribute to the Open Science agenda through close contacts and informal discussions with business and societal actors, where the conclusions of the scientific world are presented in a clear way, accessible to the general public and in particular to business and societal representatives;
Increase cooperation and identify possible practical problems to be addressed by research students in the context of Professional Practice-based Research degrees;
Establish annual innovation awards to recognise companies or social actors that have made a special contribution to the development of joint programmes, professional research activities and the development of the R&I ecosystem in the RUN-EU PLUS Alliance regions;
Disseminate the impact of professional research programmes in enterprises and society, in particular those hosting Professional Practice-based Research degrees.