SHORT ADVANCED PROGRAMME
Simulating Complex Realities with Serious Gaming
---
12 October 2022
The purpose of this SAP is to introduce students to a design-based research approach to the development of serious games for dealing with complex issues of change and sustainability.
The focus will be on the questions:
how to develop serious games for learning and research sustainability issues?
how to ensure that serious games deliver the expected value to the stakeholders involved?
Students will take part in online and on-location presentations, workshops, and multidisciplinary team assignments and cooperation. On-location activities assume short-term international mobility.
Date
From 21 November to 16 December 2022
Face-to-face week
From 12 to 16 December 2022 at the NHL Stenden (Leeuwarden, The Netherlands)
Mode of delivery
Blended
Language of instruction
English
ECTS credits
3 ECTS credits (75 hours)
Academic recognition
To be defined by each higher education institution.
Generally, most students will have this RUN-EU SAP certified in their diploma supplement, as a minimal condition
Eligible participants
All RUN-EU degree students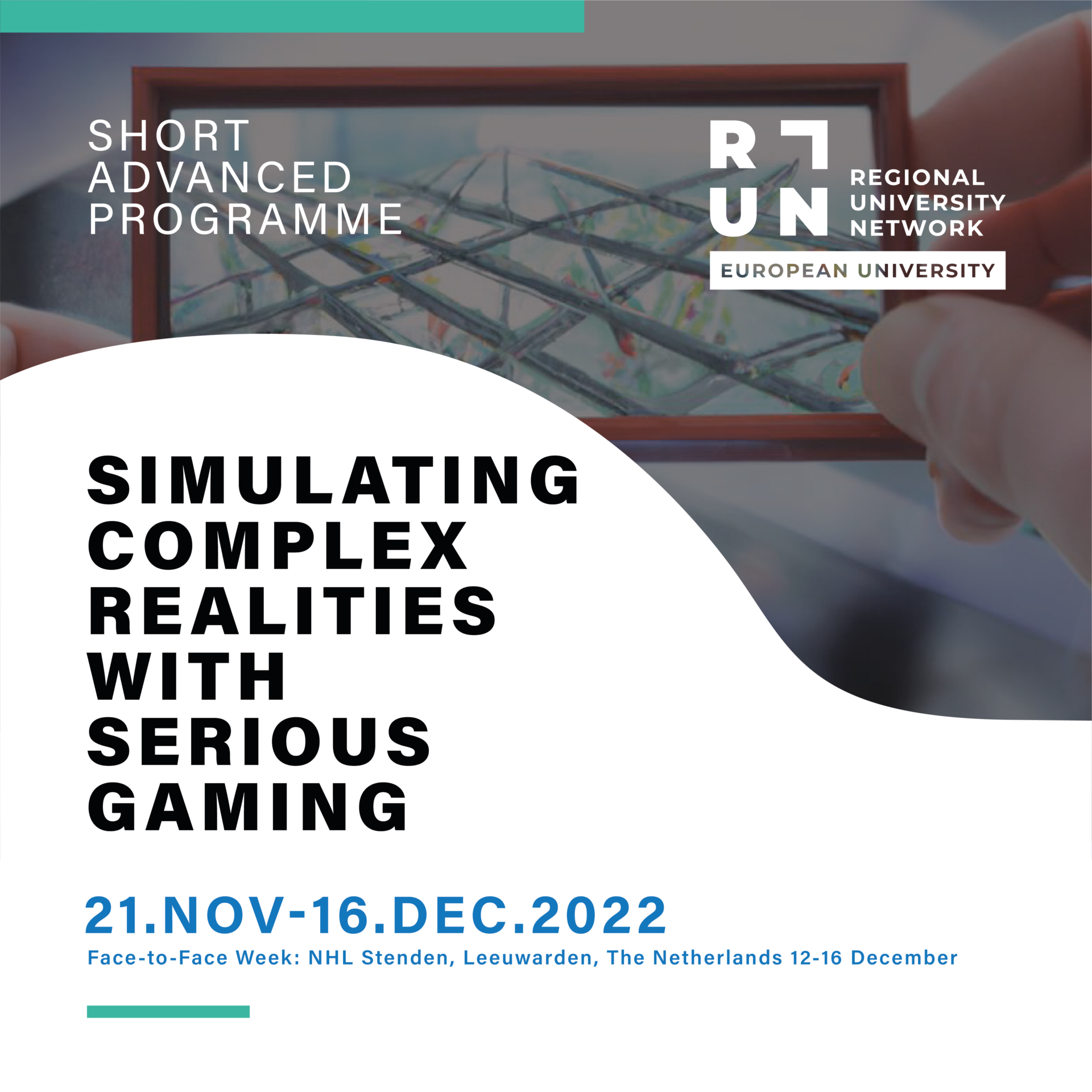 Proposed learning outcomes
At the end of this Short Advanced Programme, you will:
analyse the context of the need for change and build an understanding of a specific problem or opportunity that needs to be acted upon.
determine how a serious gaming intervention can contribute to the realisation of related knowledge transfer or knowledge creation objectives.
define a specific value to be delivered by the serious gaming intervention and the risks involved in delivering the expected value.
define design requirements and develop a model of reality that would lead to the serious gaming design, development, and implementation process.
prototype, evaluate, and modify a serious gaming intervention following a structured, iterative, and highly interactive design process.
facilitate the implementation of the serious gaming intervention, reflection on its outcomes, and translation of insights into real-life action.
How to apply
Fill in the application form
Deadline for applications
4 November 2022
Selection criteria
Motivation, learning objectives and a wide representation of subject areas/fields and balanced participation of RUN-EU member institutions.
Total number of students to be selected
30