SHORT ADVANCED PROGRAMME
Game Changing Games – 2nd Edition
---
5 August 2022
The complexity of global challenges is constantly rising. Can we change the game with games?
Taking this question as a starting point, in this SAP, students will understand how game designers can address these complexities to incite change, fostering the sustainable co-existence of humans and the ecological systems. Creating games that motivate people to engage with these topics in a playful way could be one way of making critical issues intelligible and experienceable.
Date
From 3 to 31 October 2022
Face-to-face week
From 24 to 28 October at Polytechnic of Cávado and Ave (Portugal)
Learning assessment
31 October
Mode of delivery
Blended
Language of instruction
English
Academic recognition
To be defined by each higher education institution.
Generally, most students will have this RUN-EU SAP certified in their diploma supplement, as a minimal condition
Eligible participants
RUN-EU students from any cycle of studies. This SAP is interdisciplinary but situated in the fields of Information & Communication Technologies and Arts & Design.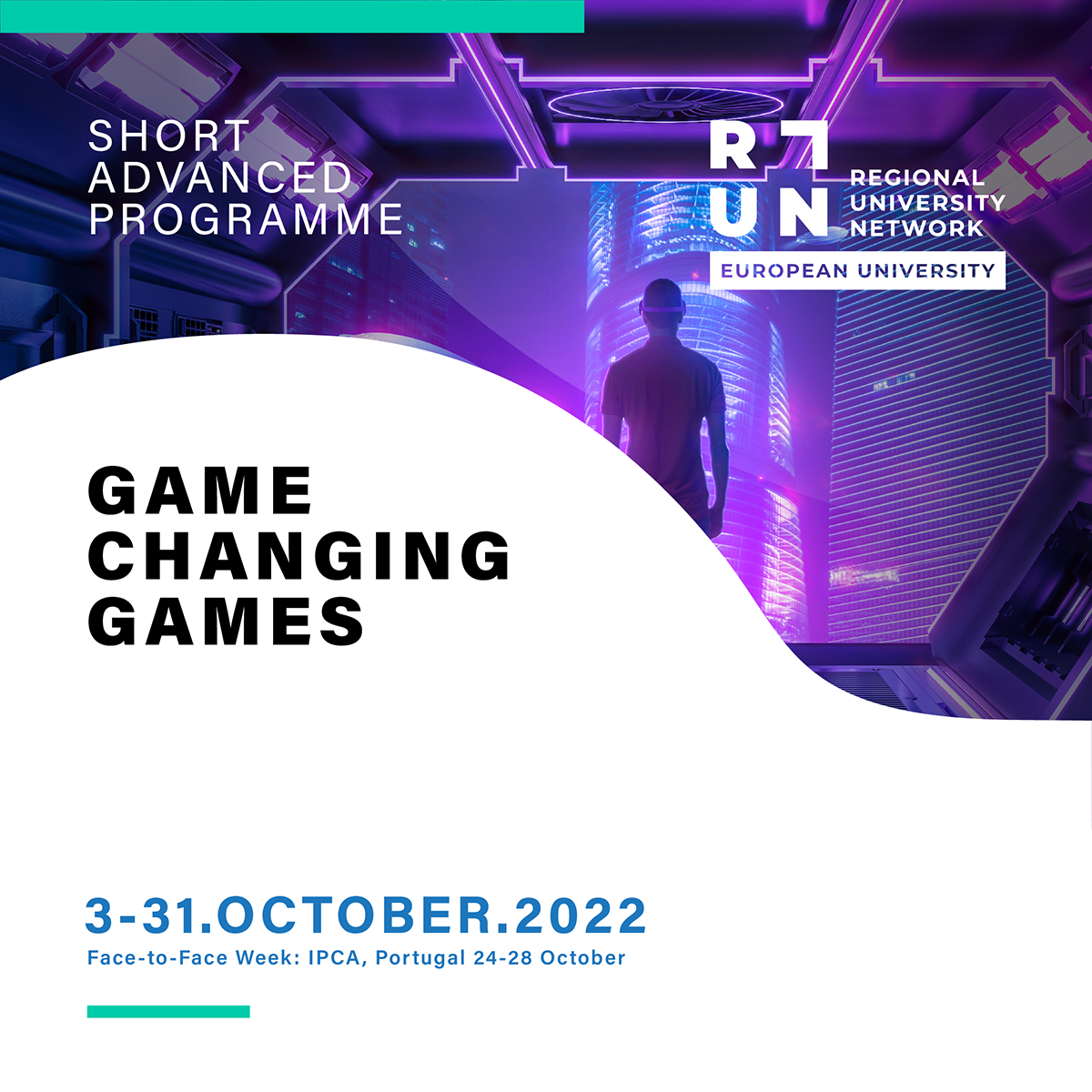 Learning outcomes
At the end of this Short Advanced Programme, students will be able to:
know crucial concepts and approaches of game design, theoretical approaches and indices of ecological, social and economic sustainability
be capable of developing and prototypically realising a concept focusing on future challenges (eg climate change, social segregation, digital divide) using games as a medium or creating playful experience(s)
work in multidisciplinary and multicultural teams
communicate solutions for societal real problems and challenges that demand innovation and various skills
How to apply
Fill in the application form
Deadline for applications
1 September 2022
Selection criteria
Motivation, learning objectives and a broad representation of subject areas and balanced participation of RUN-EU member institutions.
To be able to better discuss this topic, students need to understand:
Game cultures
Dimensions of sustainability
Best practices for project presentations
Playful methods in future design (eg speculative design)
Formal and dramatic elements of games
Games as systems, economics of games
Approaches to and methods of game design (playcentric approach)
Community-centred design
Designing digital games, urban games, social impact games, serious games, mixed reality games, alternate reality games
Interaction design in games
Design and implementation of social interaction in games
Game content and design considerations to evoke motivation
Creation of playful elements in immersive environments and affective infrastructures (eg for exhibitions and/or in the museum context)
Motivation to play vs motivation to change beliefs, attitudes, and behaviours
Storytelling, dramaturgy and visual design of games