EVENT
User Experience (UX) in Higher Education: Online Symposium
---
11 February 2022
RUN-EU and TUS Library will organise the 'User Experience (UX) in Higher Education: Online Symposium' on Wednesday, 23 February.
The online event is open to any staff working in higher education, including professional, library and academic staff members. It will also be of interest to undergraduate and postgraduate students across a range of disciplines who can apply UX methods in their research.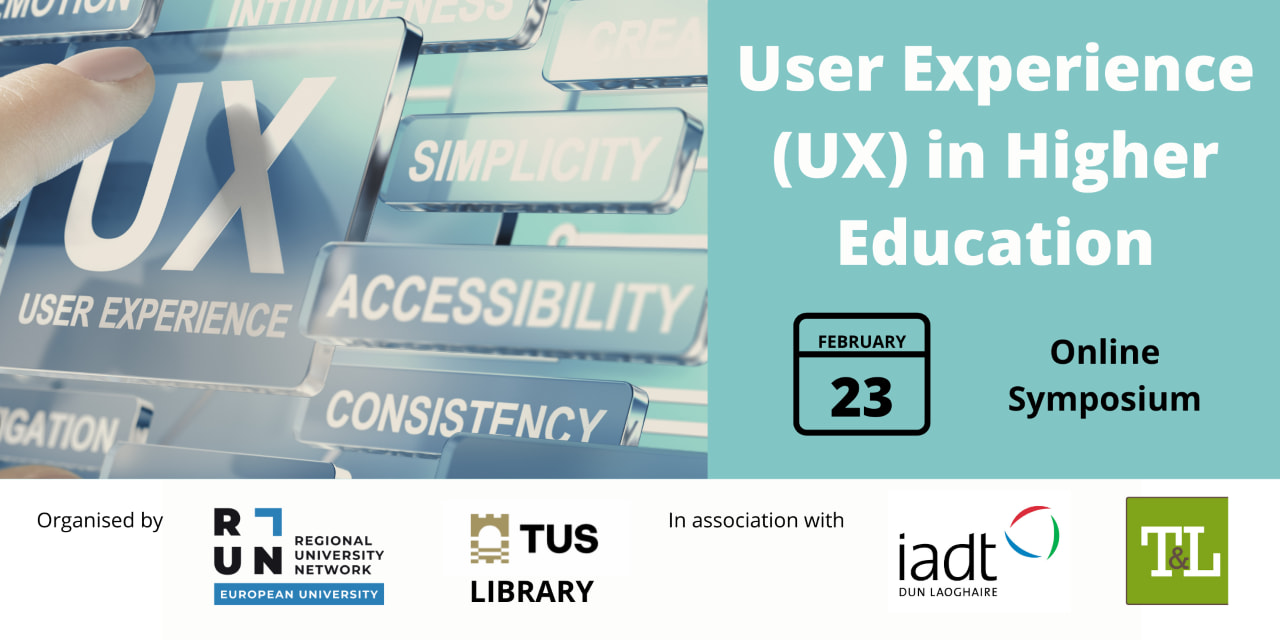 What is UX (User Experience)?
UX is how a user interacts with and experiences a product, system or service. It includes a person's perceptions of utility, ease of use, and efficiency. We can learn a huge amount about how our users' experience (and feel about) services, spaces and products by adopting rich qualitative and quantitative research methods that come under the umbrella term 'UX' (User eXperience). UX research explores user behaviours and needs, not just what users say they want.
UX for Higher Education: Why?
The 'Student Experience' and 'Student-Centred' approaches are descriptions all higher education institutions use regularly to articulate their priorities and aims in delivering education to their learners. The degree to which internal organisational design and processes live up to these words can vary widely across any organisation.
UX can offer meaningful perspectives and methods to help organisations look at their planning and processes in different ways. It can also offer a common language for staff from different parts of an organisation to discuss the realities of improving the student experience.
Join the conversation on 23 February
@TUS_LibraryMD @TUS_ie @run_euniversity #UXinHE #run_eu
Follow-up onsite event
On 23 March, TUS will host a follow-up onsite specialist UX training day. This will be provided by the UX expert Andy Priestner. Vacancies are limited to TUS and RUN-EU staff and students, as well as event partners.
If you're interested in the workshop, please email Maeve Hynes, RUN-EU Project Coordinator at TUS (maeve.hynes@ait.ie).
More information about the training day will be circulated soon.
Agenda
Wednesday, 23 February
11h00-11h15 GMT
Welcome & Higher Education Contexts for UX
Vincent Cunnane, President of TUS
Frances O'Connell, Vice-President for Student Education & Experience at TUS
Dr Johanna Archbold, TUS Library
11h15-12h15 GMT
Exploring UX: finding the value and purpose of engaging with User Experience (UX) in your organisation
Andy Priestner, UX Consultant
Andy will explore the value and purpose of UX using examples from his experiences of consulting and training in UX around the world. He will define UX work and explore what it involves, question whether libraries currently engage with users enough, detail behavioural and attitudinal UX methods, describe the UX process, deliver case studies of UX in practice from libraries in the UK, Sweden and Australia.
12h15-12h45 GMT
Service Design with Education in Mind: When users are learners
Dr Johanna Archbold, TUS Library
Dr Johanna will explore Service Design, the how of UX from the operational perspective, particularly when that service is for academic learners. She will highlight the relevance of mindset when understanding the needs of your service users in a HE context (student learners, academics, departments, organisation, etc) and how to consider space as a multi-functional service for users. This will include elements of outreach, working with organisational stakeholders, data collection, and relationship development.
12h45-13h30 GMT
Break
13h30-14h00 GMT
UX at IADT Showcase
Dr Andrew Errity, Head of the Technology & Psychology at IADT
Dr Andrew Errity and some of the UX team from the Institute of Art, Design & Technology (IADT) will use staff and student UX projects to provide an overview of key UX topics. This will include elements of user research, data analysis, iterative design + prototyping, psychology, information architecture, content strategy, and inclusive design.
14h00-15h00 GMT
Understanding UX and the Potential of Speculative Design
In this workshop, Denise McEvoy, Lecturer in Design & UX, IADT will conduct a practical online workshop session on speculative design. Speculative Design is a design practice that involves looking towards the future and proposing solutions to fictional problems that users(/humans) may be yet to face.
15h00-15h15 GMT
Break
15h15-16h00 GMT
Panel Discussion UX in Higher Education: Landscape, Opportunities, Value
David O'Hanlon, Chartered Work and Organisational Psychologist (PSI) & Lecturer, TUS Department of Business and Management
Andy Priestner, UX Expert, Trainer, Consultant
Dr Andrew Errity, Head of the Technology & Psychology, IADT
Denise McEvoy, Lecturer in Design & UX, IADT
Dr Johanna Archbold, TUS Library