SHORT ADVANCED PROGRAMME
Future Explorations
---
8 February 2022
Imagine it's 2035 and the CO2 emissions are reduced by 78%. Will there be autonomous vehicles and aerial transportation drones buzzing around the city?
'Future Explorations' is a RUN-EU Short Advanced Programme (SAP) jointly coordinated by the Vorarlberg University of Applied Sciences (FHV), the Technological University of the Shannon (TUS), and the Häme University of Applied Sciences (HAMK).
Think about your future and the place you would like to live in. How do you imagine a sustainable city? And what does the transport system look like in this urban mobility scenario? Which role do emerging technologies play in moving towards an ecologically sustainable scenario?
In this SAP, we will address these questions and work on two challenges brought in by mobility and transport companies and select a third challenge proposed by students.
In interdisciplinary teams, students will actively shape the future by developing prototypes of digital innovations and communicative solutions that contribute to sustainable development in the field of mobility and transport. All this with the support of an international team of lecturers and coaches, as well as RUN-EU corporate partners.
Date
From 7 March to 23 April 2022
Online sessions and remote teamwork
From 7 to 11 March (7 March: for lecturers only)
Face-to-face week
From 19 to 23 April at Vorarlberg University of Applied Sciences (Austria)
Mode of delivery
Blended
Language of instruction
English
ECTS credits
3 ECTS credits
Academic recognition
To be defined by each higher education institution. Generally, most students will have this RUN-EU SAP certified in their diploma supplement as a minimal condition
Eligible participants
Bachelor/1st cycle (EQF 6), master/2nd cycle (EQF 7) and PhD/3rd cycle (EQF 8) students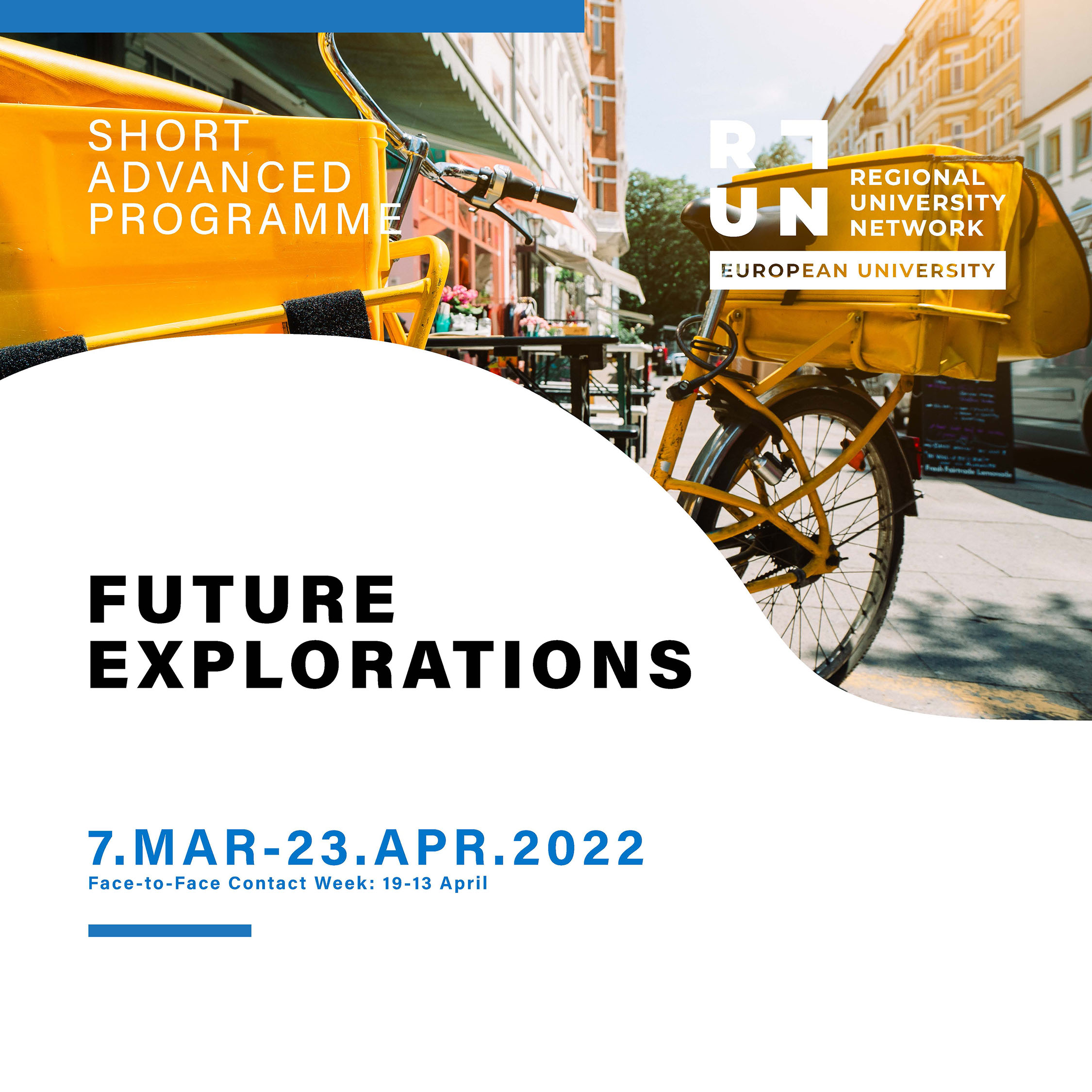 Proposed learning outcomes
At the end of this Short Advanced Programme, you will be able:
to assess future developments
to develop and implement innovative technologically supported and communicative solutions addressing future challenges
to combine theoretical knowledge as well as methodological competencies in the process of innovation development and implementation
to work in an interdisciplinary team and face a final presentation including a panel discussion.
How to apply
Fill in the application form
Deadline for applications
14 February 2022
Selection criteria
Motivation, learning objectives, wide representation of subject areas/fields and balanced participation of RUN-EU universities. The selection team will also take steps towards ensuring diversity and representativity
Total number of students to be selected
25