SHORT ADVANCED PROGRAMME
Design Expedition: Emotional Intelligence Meets Artificial Intelligence in Business Design
---
19 January 2021
'Design Expedition: Emotional Intelligence Meets Artificial Intelligence' is a RUN-EU Short Advanced Programme (SAP), jointly coordinated by HAMK and IPCA, offering an experimental learning journey to emotions and artificial intelligence during a 1-week online workshop, from 8 to 15 February 2021.
All RUN-EU students from any level of studies are invited to participate. Participants will be grouped into multidisciplinary and multicultural teams.
The challenge is to create a solution for the interactive future customer experience of a grocery store visitor. Participants must create a solution that encompasses the possibilities connected but not limited to Computer Vision, Emotional Intelligence and Artificial Intelligence Applications.
Proposed Learning Outcomes:
At the end of this RUN-EU SAP students will be able to:
Apply critical thinking, creative problem-solving concepts and design thinking models and tools for solving combined business design, emotional intelligence and artificial intelligence learning challenges
Work in multidisciplinary, multicultural and co-creation environments
Communicate information, ideas, problems and solutions to both specialist and non-specialist audiences clearly
Propose solutions for societal real problems and challenges that demand innovation and a varied set of skills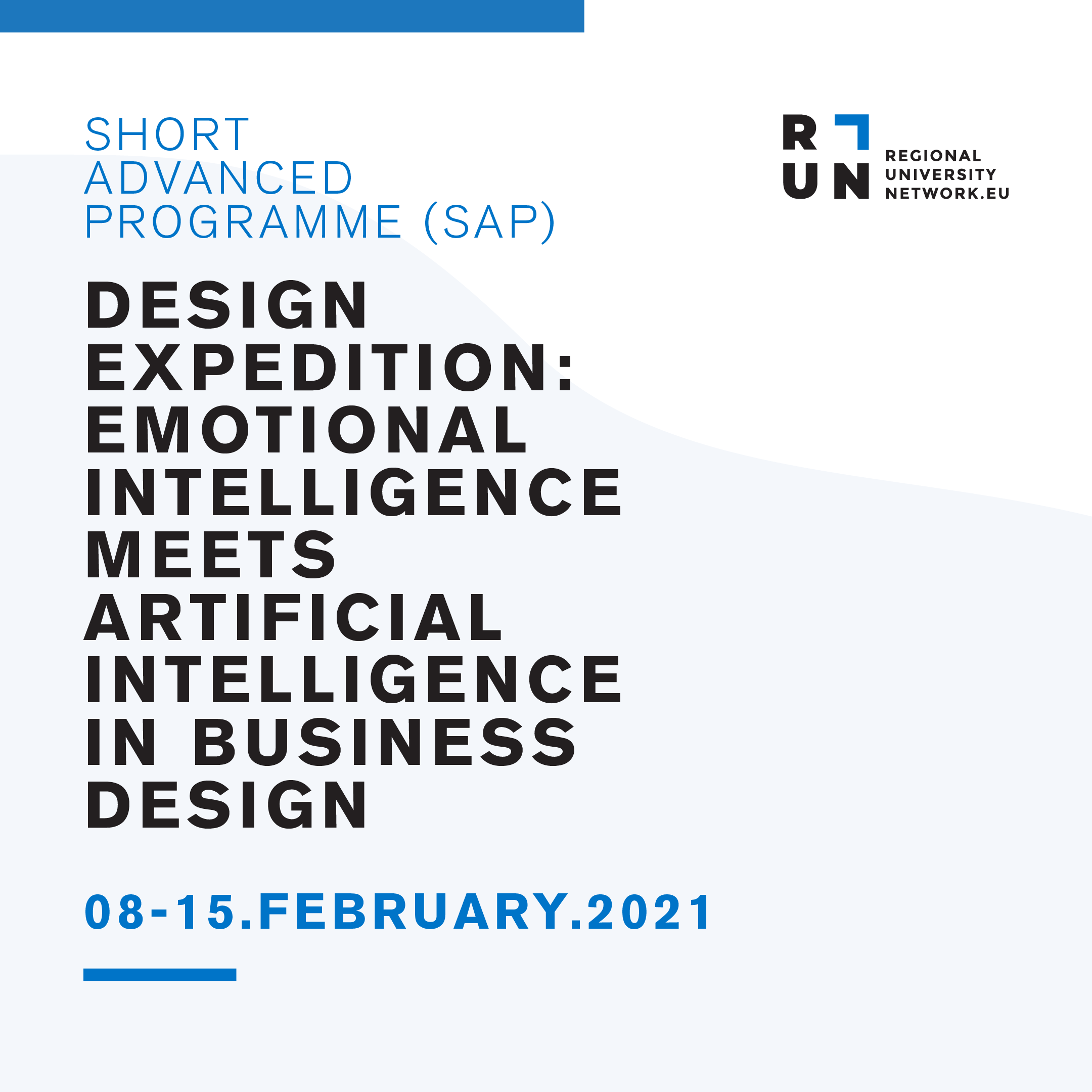 Date
From 8 to 15 February 2021 (some preparatory work from 4 to 7 February 2021 will be required)
Mode of delivery
Online
Language of instruction
English
ECTS credits
2 ECTS credits
Eligible participants
RUN-EU students from all cycles of studies
Applications
How to apply: fill in the application form
Deadline for applications: 26 January 2021
Selection criteria: order of submission (first come, first served), motivation, wide representation of subject areas/fields of study and balanced participation of RUN-EU member institutions
Coordination:
Häme University of Applied Sciences – HAMK (Finland)
Polytechnic of Cávado and Ave – IPCA (Portugal)
Coaching/Mentoring:
Several Coaches/Mentors from HAMK and IPCA + 1 coach from each RUN-EU Partner University
Contact details: run-eu@ipca.pt and kati.heikkinen@hamk.fi