EVENT
RUN-EU Kick-off Meeting and Launch Event
---
16 November 2020
RUN-EU will organise its online Kick-Off Meeting and Launch Event on 25 November at 14h30 CET.
The presidents and rectors of the higher education institutions that make up the RUN-EU together with the representatives of the governments of each country, as well as the students and staff members, will present this new European University and discuss the importance of RUN-EU in the transformation of the higher education and its regions.
25 November 2020
14h40
The RUN-EU European University

14h50
'The transformation potential of European Universities'
Round table discussion with the Presidents and Rectors from RUN-EU

15h30
'Student engagement and involvement in European Universities'
Presentation and round table discussion with the Students from RUN-EU

16h00
'Member states in Support of European Universities'
Round table discussion with Government representatives

16h40
'RUN-EU in the transformation of our HEI and Regions'
Questions from participants, students, staff and associated partners

17h00
Closing Session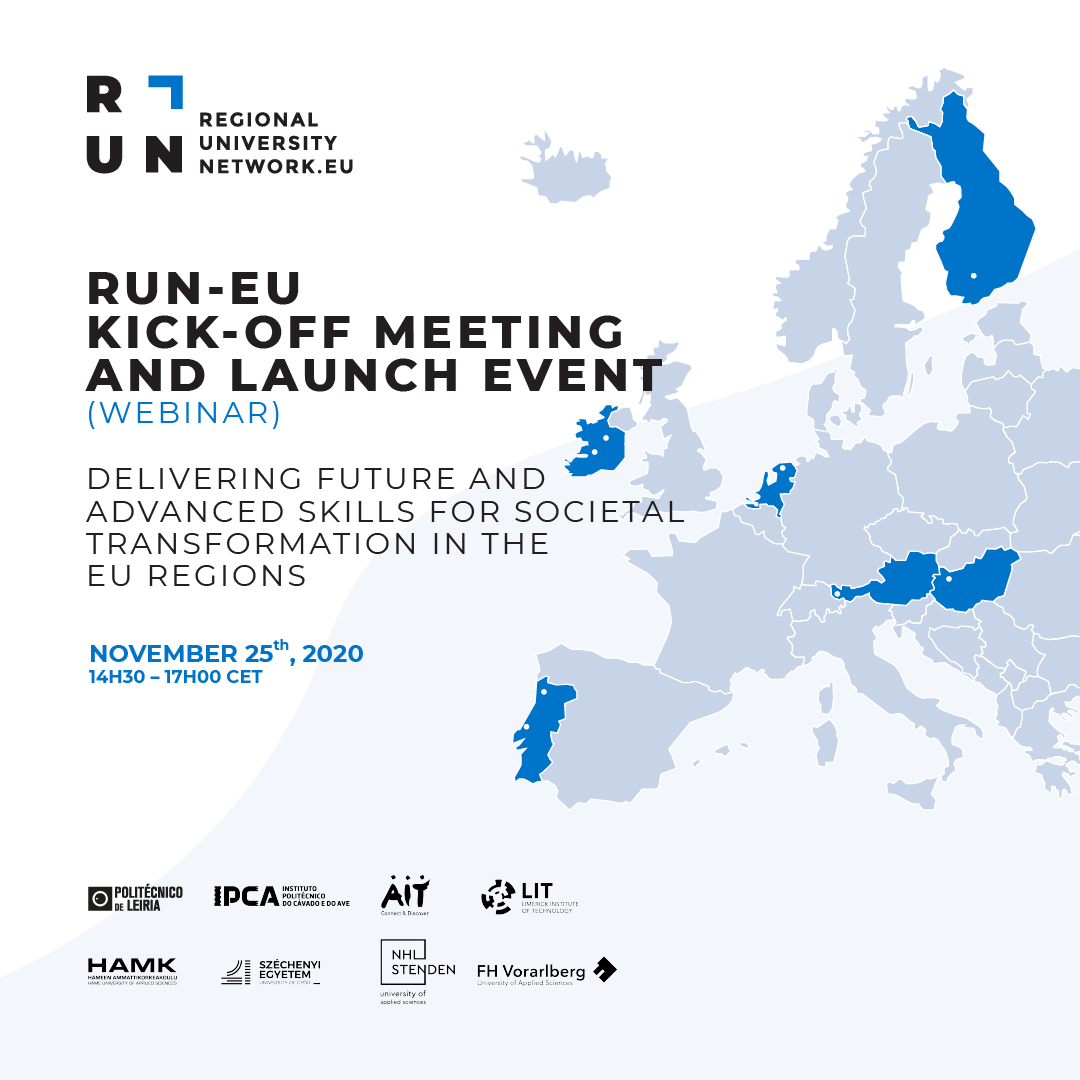 RUN-EU is a network of like-minded and regionally focused Higher Education Institutions committed to societal transformation in their regions in the context of both new and emerging regional and global challenges but in particular sustainable regional development. It is proposed to achieve this collective mission through the delivery of collaborative, future and advanced skills-based teaching, learning, and research and engagement activities across the network.
The higher education institutions, corresponding countries and associated regions which compose the RUN-EU alliance are the Polytechnic of Leiria – Portugal (Centre Region); the Polytechnic of Cavado and Ave – Portugal (Northern Region); the Athlone Institute of Technology – Ireland (Midlands Region); the Limerick Institute of Technology – Ireland (Mid-West Region); HAMK – Finland (Southern Region); Széchenyi István University – Hungary (Győr-Moson-Sopron County); NHL Stenden – Holland (Friesland Province); and FH Vorarlberg – Austria (Vorarlberg).
RUN-EU aims to implement training programs that include the promotion of future and advanced skills for social transformation in the regions of the European Union. higher education institutions will jointly develop a diverse range of teaching and learning actions, providing students with different international programs (short-term and e-learning), while international cooperation projects in the area of research and development are also implemented. In the future, students will also have the opportunity to obtain European double/multiple degrees within the framework of joint training programs.
RUN-EU will also have the mission of promoting the economic, social, cultural and sustainable development of the regions covered by the network, providing the necessary skills so that students, researchers and regional agents can successfully face the challenges of the future. This new consortium intends to be an active agent in the social transformation of the regions, promoting active citizenship and leading the creation of a new multinational interregional alliance (European Zone for Interregional Development – EZ-ID).