SHORT ADVANCED PROGRAMME
Product Design-Ceramics
---
21 February 2020
Organisation
ESAD.CR – IPL (Portugal): João dos Santos, Carla Lobo and João Mateus
ESD – IPCA (Portugal): Paula Tavares, João Santiago and Demétrio Matos
LAD – LIT (Ireland): Elaine Riordan and Arturo Borrego
HAMK UAS
NHL Stenden
Distance cooperation
Frisian Design Factory / NHL Stenden (The Netherlands): Marcel Crul
HAMK UAS (Finland): Mirja Niemelä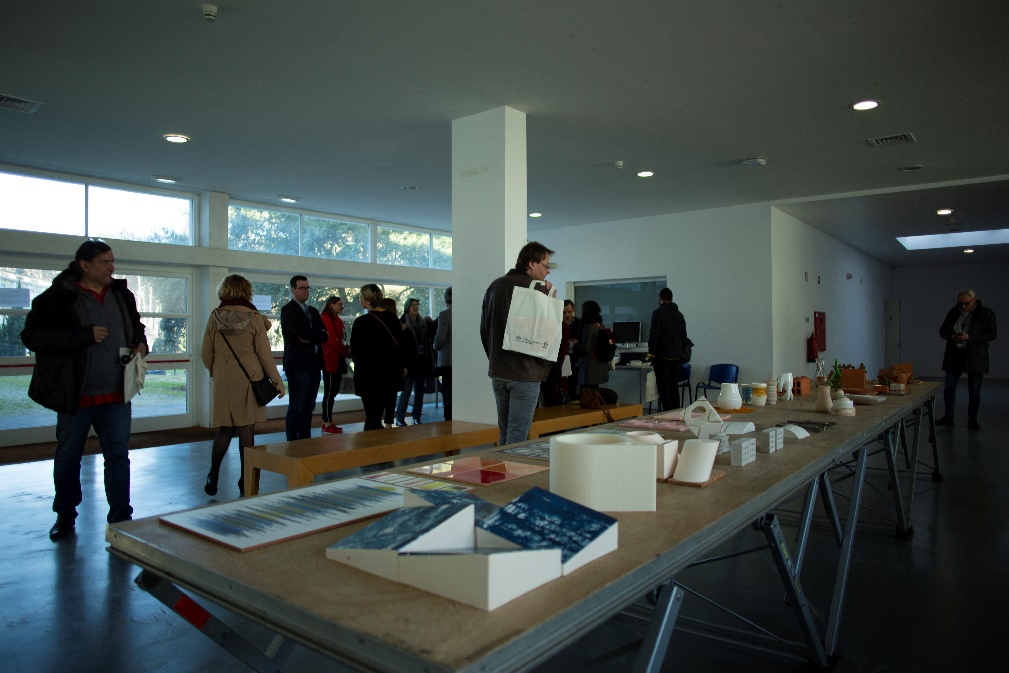 19 February
Morning Session, at ESAD.CR auditorium.
Common program with CLAY – Interregional Learning Event 04 (Lecturer at ESAD.CR, Phd, expert in economy and ceramics, ambassador of the International Academy of Ceramics, and representative of the Portuguese Ceramic Cities and Villages Association), on the themes of Ceramics in Portugal and Ceramics Education. Followed by a networking lunch.
Afternoon session, city of Caldas da Rainha and Óbidos.
Ceramic artists and designers' studio visit: Paula Violante & Miguel Neto, Vitor Reis, Eneida Tavares, Hugo Graça, VICARA, Margarida Moreira, Inês Santos and Telma Vieira.
20 February
Morning Session, at ESAD.CR Library Room – workshop/ panel discussion
9h30-13h00
(Previous visit to the School's workshops and other facilities)
Professor José Luís de Almeida e Silva – introduction and moderation (with participants from different European countries such as Italy and France.)
Theme: A reflection on the regional potential of ceramics and the role of Higher Education in its development and transformation, with the purpose of creating an advanced international course in the area of Product Design – Ceramics involving designers, artisans, artists, industry (SMEs) and policy-makers, and adapted to the characteristics of each region.
National and international perspective on the links and forms of mediation between industry, Higher Education Institutions and designers
Followed by a presentation of each of the participants' schools, its projects and approaches to the subject of Product Design – Ceramics, but also to the pedagogical strategies and forms of coping with the territory, from a global perspective to regional impact.
Open workshop attended by Product Design – Ceramics and Glass students and teachers.
Afternoon Session, at ESAD.CR Library Room – workshop/panel discussion
14h30-18h00
Workshop with alumni:
The contribution of ESAD.CR, and arts and design education for the development and innovation of regional ceramics and design processes. The alumni and SME vision and experience.
João dos Santos – Short contextual introduction to the RUN Network.
Participants: Ro.Se (Rogério and Sérgio), Ana Rita Fonseca, André Sancho, Rita Frutuoso, Vítor Agostinho and Vítor Reis.
Open talk between alumni, ESAD.CR students and RUN partners.
The importance of a transdisciplinary learning environment for the development of the designer's identity and a diverse set of skills.
The importance of school in the mediation between designers and industry. Discussion around the relative importance of industry for the development of the young designer, and around the importance of design to a more responsible and sustainable industry – what are the different roles of Schools and regional institutions in face of the sector's challenges? On this context, what tools and skills should be addressed, considering the International Short Advanced Course on Product Design – Ceramics?
Open workshop attended by Product Design – Ceramics and Glass students and teachers.
21 February
RUN-EU Workshop
Library Room
10h00-14h00
Proposed thematic designation: Responsive/ Responsible Clay + keyword (regional framing)
1. Applicants
Who can apply: 2 students from each of the RUN partners, and everybody with interest on the subject. Selection made through the admission criteria.
Admission Criteria: CV, portfolio, letter/ video of intention, working proposal, 3 years' experience in the field of ceramics and/or design.
The number of students for each SAC – PDC edition is, preferably, between 15 and 20.
NOTE: the SAC has a scientific committee for the selection of the applicants
2. International and regional partners
a) RUN partners – mentors to each and all SAC editions. SAC staff is composed of one to two mentors (lecturer, associate professor, researcher, …), from each Partner School
b) Involve local communities – political representatives (e.g. municipal counsellors and technical staff from local museums); industrial associations; artistic and design associations, galleries, workshops, …
c) Regional Partners have a significant role, in facilitating access to the applicants, and contributing with knowledge, experience and technology to the SAC.
d) Regional Partners are directly involved in some of the SAC activities, such as open classes, seminars, masterclasses or workshops.
3. SAC duration
3-4 weeks long
6 to 8 ECTS
The SAC – PDC is designed as a module or part of a module of a master program, contributing to the student's curricula. In the long term, we expect this to be a module of an International Open Master.
All participants receive a certificate with the corresponding credits.
4. RUN timeline (3 years)
Proposed timeline for the 5 SAC, to be held in each of the 5 participating Schools
Each SAC edition is adapted to the regional context (theme and partners). After each SAC edition, it is assessed and improved, if necessary.
SAC 1 – October 2020
SAC 2 – LAD/ LIT – 1st semester of 2021
SAC 3 – ESD/ IPCA – 2nd semester of 2021
SAC 4 – HAMK – 1st semester of 2022
SAC 5 – ESAD.CR / IPL – 2nd semester of 2022
Final Event – 1st semester of 2023: balance, sharing of results, exhibition and other forms of dissemination (Dutch design Week, BID, …), next steps
5. SAC – PDC structure
This draft was designed considering a duration of 4 weeks.
1. From the admission process, the mentors will adapt the applicant's proposals to the theme.
2. Students are expected to have different backgrounds and experience.
3. The SAC is divided in two parts:
a) An introductory part, lasting one week, designated Context, in which the students are introduced to the theme, and to the course subjects and its material conditions. At the end of the week, students will organize in teams with one mentor attributed to each. Students will work in teams for the rest of the SAC.
b) The second part of the course, lasting three weeks, is designated project development.
Week 1 – Context
Day 1
a) SAC Introduction and welcome + "wayfinding"
b) Context: Invited speaker – masterclass introducing the regional theme, with economical, historical, social, anthropological, ethnographical, artistic, or other references considered relevant.

Day 2
Masterclass/ field trip (full day) – hands-on materials, inside or outside the School facilities
Experts from faculty or regional partners will lead the masterclass

Day 3
Research day – students have to write a small report. There is no specific boundary to the research materials (library, workshops, landscape, factories, studios, galleries …)

Day 4
Masterclass/ field trip (full day) – hands on materials, inside or outside the School facilities
Experts from faculty or regional partners will lead the masterclass

Day 5
Team definition – project themes. During this day, students will organize in teams no smaller than three, and will work on the project theme. The teams must prepare a presentation/ pitch of itself and the proposed theme.
Network Dinner (ND) with a guest speaker from regional partners. Other regional partners are invited to the dinner. The tables are organized with a mix of students, mentors, regional partners and public representatives. Teams present the pitch.
Week 2 to 4 – Project Development
Each team has 2 meetings a week with the assigned mentor (minimum contact time: one hour).
All teams have one peer learning session per week. This session is the forum for debate between students. Two or three mentors can help mediate the conversation. Expected to have half-day duration.
NOTE: team meetings and peer learning sessions can occur anywhere.
Upon team request or mentors' suggestion, regional practitioners or experts can be invited for specific workshops, masterclasses or other kind of collaboration. These collaborations can occur at the School, or for e.g. at the partner facilities. These collaborations are important for introduction to new technologies and processes, or to redefine team's challenges.
If necessary, PR experts can be invited to help teams promote linkages between the parts of each project and, when necessary HEI's.
Week 4 – Exhibition and Presentation
The last three days are dedicated to the setup of a project exhibition, and to its opening with public presentations. In Leeuwarden, this exhibition could take place at the Princessehof Museum.